The makeup maven's career so far, including Wind in the Willows, Wimbledon—and "work"!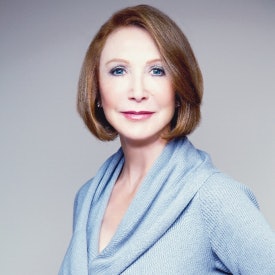 When surveying Jane Iredale's extraordinary career, the word "versatile" springs to mind. Iredale attributes her ability to turn her hand to—and master—every new skill to her mother. "She had a work ethic that makes me tired to even think about!" quips the makeup maestro. "She worked full time, then on the weekends she cleaned the house and tackled decorating jobs. I even remember her on the roof once, scraping moss off the tiles!"
Iredale was born in North London, England, and went to school in Tottenham—"which made me a Tottenham Hotspur football [soccer] fan for life!" Ambitious from the get-go, she moved to New York City, where she worked as a casting director at J Walter Thompson. Next, she co-founded a film production company and began authoring film and theater scripts, even garnering a Tony nomination in 1986 for her book for the Broadway musical Wind in the Willows.
Iredale's experience in the entertainment world set the scene for her next career move. "I'd spent years working with women whose careers depended on having flawless complexions, and realized that the heavy makeup they used to cover up skin problems made them worse," she explains. "I started thinking about a solution: a makeup with true skincare benefits. Because fashion, wellness, beauty and personal expression were all interests of mine, the leap into makeup was very natural for me."
The budding entrepreneur joined forces with a chemist in Los Angeles, and by 1994 they had their first product—a mineral makeup powder—and one customer. "The company began with a whimper, not a bang!" laughs Iredale. As word of mouth spread and the business grew, so did the need for money and manpower. She borrowed from friends and family until she could attract enough support from a bank, and her now-husband left his financial career to help guide the fledgling company.
In the intervening years, the brand has grown to include more than 400 products, available in 46 countries. Key to its success is an uncompromising attitude toward ingredients. "We use a lot of plant extracts, most of which are certified organic," explains Iredale. "I'm an avid gardener, so I love it when I find botanicals that combine the natural and scientific worlds."
In 2014 the company celebrated its 20th anniversary and was also certified cruelty-free by the Coalition for Consumer Information on Cosmetics' (CCIC) Leaping Bunny Program. It's another issue that's close to the businesswoman's heart: "I've always felt that animals contribute so much to our lives and that we owe them respect," she explains.
So, what do the next two decades hold in store? "We're plan to carry on doing what we're doing while getting better and better at it," says Iredale. "We'll continue to spread the word internationally and learn about undiscovered markets. With new ingredients, new technologies and new ways of marketing them, these are exciting times!"
What has been the defining moment of your career?
It's not one moment, but I feel as though we've generally had a positive effect on the makeup world and that we've changed and enhanced women's lives. We've given them an alternative and, together with some other noteworthy brands, we've pioneered a movement that has changed forever the way consumers view makeup. Impacting women's lives began almost immediately. In those days, they let us know by phone; now it comes from all directions, including social media, texts, emails and reviews. And it isn't just about the products: it's also hearing from single moms who've been able to keep a family together by selling our products in their place of business. It's deeply satisfying.
Do you have any advice for people entering the skincare world today?
Find a lab with a chemist who shares your vision and is willing to work with new possibilities—but also knows how to abide by the rules and keep the appropriate records. The last thing you want is a product recall. In these days of struggling with preservatives that work but don't put off the consumer, bringing safe products to market is quite a challenge. And that's only part of the picture. It's becoming more and more complicated!
To what do you attribute the company's success?
Word of mouth has played a huge part, but so has listening to professionals and consumers. I've always been open to suggestions and ideas, and followed through when I thought it was right for the brand. Doing what you say you're going to do is a huge part of the company's DNA.
How do you remain competitive in the growing field of mineral makeup?
There are a lot of brands on the market now that use 'mineral' as a marketing term. The mineral makeup category has been one of the fastest-growing in recent years, and almost every major player has a mineral offering. The misconception is that all mineral makeup is created equal. It's important that consumers read the label to see if the brand fits with what they want from a product. The only change our company has made since we began in 1994 is to add some beneficial ingredients like botanicals and antioxidants. Everything we do is based on making the skin as healthy as possible. We use a lot of plant extracts, most of which are certified organic. Because our brand is rooted in science, I love it when I find botanicals that combine the natural and scientific worlds. We source most of our plant extracts from Europe, where there is a long heritage of appreciating and understanding their benefits. But I would have to say that the competition has only impacted us in a positive way: I don't feel that there's anything new out there regarding minerals that we haven't already brought to the consumer.
What's one thing we should all be doing with regard to our diet that we're not?
We're not eating seasonally and locally enough. Clean, fresh food with all its nutrients intact builds healthy cells—it's as simple as that. This is compatible with the needs of our bodies. We need warming foods in colder weather and cooling foods in warmer weather. Root crops and squash nourish and warm our bodies in the winter, salads and fruits suit us perfectly in the heat. Strawberries weren't meant to be eaten when there's snow on the ground! Eating locally improves your health by giving you the freshest possible food, supports small farmers who are struggling, and saves enormous amounts of resources because shipping is reduced to a minimum.
How do you find a work-life balance?
I don't even like the word 'work'. I'm going to digress and express a pet peeve here. The most annoying thing a waiter can say to me is, 'Are you still working on that?' My response is always, 'This isn't work. This is a pleasure.' If it isn't a pleasure, what am I doing here?!
To be honest, I'm not really sure what 'balance' means. It seems to imply that work needs to be offset by something that's good for you. My job doesn't feel like work to me. I find it satisfying, inspiring, challenging and fun. Not that I don't like to go to the beach once in a while, but I'm at my best when I have something to do. Something where I have to solve problems, move things forward, create something. I can feel my juices flowing and I love that. My job is so intertwined with my life in general that it's hard to separate it. I love to garden, and the garden has become an inspiration for our makeup line. From colors to smells to taste, it's an important part of what we do. I read a book and I think, 'Oh, I love that word, I'm going to use that somewhere.' So, to answer your question, I don't even think about balance—it's all life for me.
Why is giving back so important to you?
I believe that we're only as strong as our weakest link. Give people enough food, shelter and hope for a better future and everyone benefits. I don't think there would be as many problems in the world if people had hope. So we direct our philanthropic work in that direction—mostly to women, children and animals. Men benefit indirectly too. For instance, our partnership with Living Beyond Breast Cancer helps not only the women with the disease but also their families in the pre- and post-care phases.
Tell us something most people don't know about you.
I love to renovate old buildings. Recently we renovated and moved our offices into an old, historic school, The Bryant, in Great Barrington, Massachusetts. We kept as much of the building's character, charm and originality as we could while updating it to leave the smallest environmental footprint possible.
What do you enjoy doing in your spare time?
I love visiting the farmers market we host [next to our house in Great Barrington] every Saturday morning and buying up a storm. Then I spend the rest of the week cooking the produce that's overflowing from my refrigerator. I bought so many strawberries the other day that I gave one to my dog and found that she loves them! So cooking, gardening, walking my dog and talking to farmers are my favorite things right now.
Read any good books lately?
I'm currently reading The Shepherd's Life (Allen Lane, 2015) by James Rebanks. It's a book about a disappearing way of life in the Lake District in England. The writer was born into farming family. He was a terrible student but ended up going to Oxford University. Then he came back to be a shepherd again. He speaks of the opportunities he had with his Oxford degree to move away from the farm and his reasons for coming back, about the importance of being connected to the land, experiencing the seasons, respecting the animals and his life in general. I'm not making it sound as interesting as it is—it's really a remarkably honest story.
If you could change one thing about yourself, what would it be?
I'd have thick, wavy hair that I didn't need to blow-dry every morning!
What do you miss most about England when you're not there?
I miss the safety of the countryside: there's no Lyme disease, poison ivy or poisonous snakes. You can wander in a field of buttercups and come out with nothing but pollen on your jeans. I miss the London theater scene and sitting in a pub with a half-pint of Guinness and a smoked salmon and cress sandwich. And most of all I miss Wimbledon, when the whole country goes mad for tennis. I mean the whole country and I mean mad for!