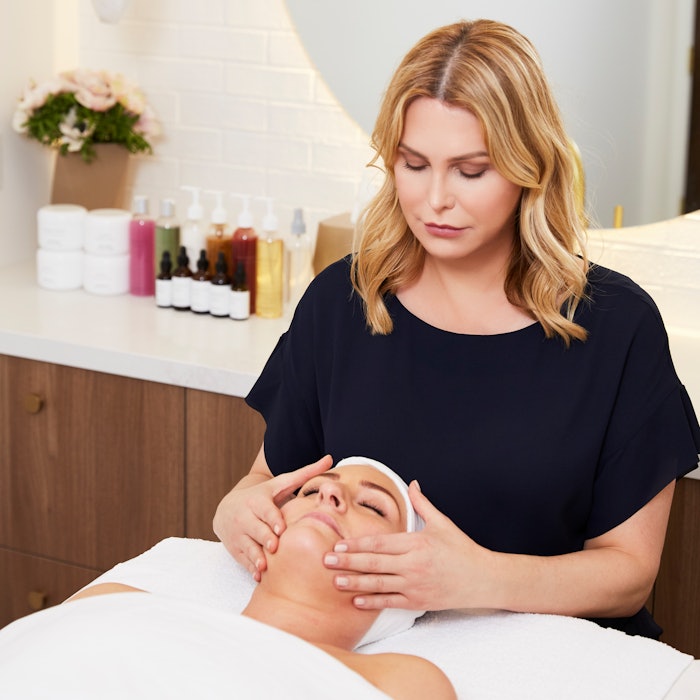 Photo courtesy of ARONA Studios
Arcona, the Los Angeles based luxury skin care studio, has introduced its new Oxygen Dome Treatments ($275+) to its spa services menu.
The Oxygen Dome Facial
This combination treatment includes the brand's signature Facial Contouring Treatment. The facial features a deep muscle facial massage that contours and tightens skin. This treatment is great for treating dehydration, blemishes, sun damage and uneven skin tone. 
Related: Oxygen Facials: Red-carpet Services or Serious Skin Care?
The technology used in the facial generates highly concentrated oxygen and anions (negative ions or "air vitamins"), and it does this in two ways.
1. Mist. A small airbrush gun uses concentrated oxygen and anions with customized serums for a more intense infusion of skin health molecules into the skin. 
2. Oxygen Dome. The skin is surrounded by the oxygen and anions for 15 min. for an intense exposure to the beneficial molecules. This is a soothing experience that hydrates and calms the skin.
The Enzyme Peel and oxygen therapy techniques help to improve tone and texture of skin while also infusing it with essential vitamins to promote the production of collagen for a hydrated, radiant complexion. 
Anions and Oxygen
Anions are negative ions that are used in certain types of air purifiers to free indoor spaces of airborne allergens, pollens and bacteria. When used in an oxygen dome treatment, the anions activate the skin and revitalize a dull-tired complexion. Anions help to stabilize free radicals and regenerate skin, while rebalancing the skin's pH, reducing blemish causing bacteria, promoting skin intake of nutrients and improving the overall tone, texture and brightness of the skin.
The technology is harnessed in the machine that pulls in the room air, separates the nitrogen and gives back a 90% oxygen stream. The stream is then pumped through a large dome that covers the skin, so that the anions can be trapped in the space around the face. During the treatment, the skin absorbs the anions and your client will also breathe them in for added benefits. 
Like other Arcona treatments, this service is designed to address the custom needs of each client's skin strength, condition and needs.