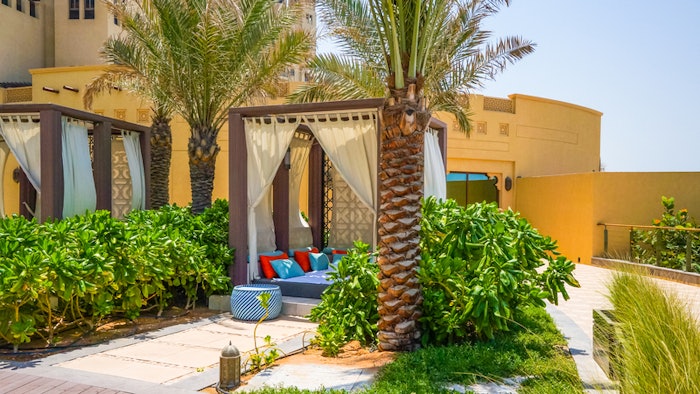 Wellness experts at Zeal CBD have compiled a list of the most unusual spa retreats across the world, which are popular with some of today's top celebrities. Here are the top seven, complete with Instagram insights, celebrity sightings and spa standouts. 
Instagram hashtags: 45,509 
Celebrity sightings: Millie Mackintosh and Hugo Taylor 
This property is the most Instagrammed spa location and one of Dubai's most renowned resorts. The spa has 11 suites where guests can enjoy luxurious treatments and unwind on the balcony overlooking the pools.
Instagram hashtags: 5,410
Celebrity sightings: Tom Hiddleston, Leonardo DiCaprio and Kate Moss
This Moroccan resort features stunning traditional architecture. The Palace Es Saadi Spa is spread over three floors around a century-old tree to invite self-reflection and inner peace. Wellness offerings help guests reconnect and rebalance their lives, with treatments including holistic spa services, wellness therapies and signature essentials.
Instagram hashtags: 5,005
Celebrity sightings: Jerry Hall and Jasmine Hemsley 
Located on an English estate, the spa mimics its natural surroundings by incorporating wood, marble and glass to reflect the outdoors. The facilities feature five thermal cabins, a post-treatment relaxation room and a social lounge with skin care mixology bar.
Instagram hashtags: 4,357
Celebrity sightings: Beyoncé and Jay Z
At the Royal Champagne Hotel & Spa, guests can explore the vineyards, then head to the spa overlooking the vines. Experienced therapists pamper, replenish, indulge and restore guests to the healthiest version of themselves. The spa features nine treatment cabins, two swimming pools (indoor and outdoor), steam room, sauna, Jacuzzis, yoga studio, fitness room and a beauty bar.
Instagram hashtags- 1,915
Celebrity sightings: Oprah Winfrey, Julia Roberts and Emma Roberts
The Golden Door is a renowned wellness retreat. Guarded doors and a relaxing atmosphere help guests focus purely on their well-being by removing external distractions. Each guest's week-long program includes a daily in-room massage, five skin or body treatments, and a manicure/pedicure, all designed to balance the body and mind after. 
Instagram hashtags: 1,606
Celebrity sightings: Victoria Beckham
This retreat focuses on traditional Chinese treatments and bio-energetic medicine. The Palace Merano team helps guests learn a healthy and balanced lifestyle, ultimately leaving their bodies and minds in a state of total well-being and harmony. Treatment offerings include lymphatic drainage massages, a plant-based diet, phyto-mud sessions and more. 
Instagram hashtags: 717
Celebrity sightings: Christina Aguilera 
The Baglioni Spa is an exclusive spot that has only been posted on Instagram 717 times. The spa has steam rooms, experience showers and three treatment rooms for massages and facials.