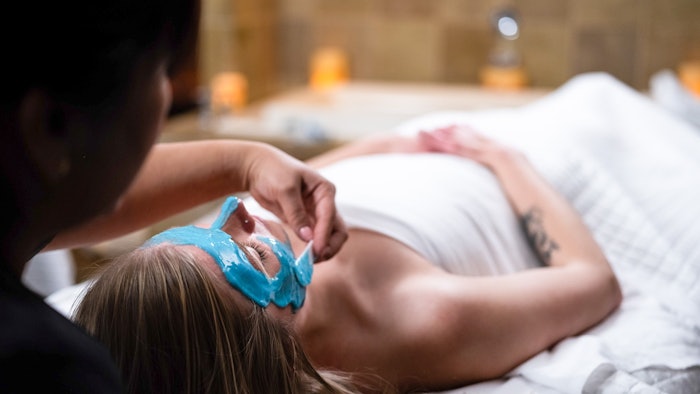 Courtesy of Stillwater Spa at Hyatt Regency Lake Tahoe
The Hyatt Regency Lake Tahoe Resort, Spa and Casino now has a new treatment menu at its Stillwater Spa & Salon.
The new Stillwater Spa treatment menu includes a combination of holistic healing practices and modern modalities, which can be mixed and matched to suit guests' specific wellness needs. 
"The menu features holistic healing practices, such as aromatherapy and Ayurveda, paired with modern approaches for an elevated spa experience," said Julie Orblych, director of spa and wellness at Hyatt Regency Lake Tahoe Resort, Spa and Casino. "My talented team and I have worked hard to create a menu of spa experiences designed to focus on wellness intentions. Rather than providing a list of traditional services, the menu matches guests with the services that best fit their overall wellness goals, whether that's finding a sense of calm or balance from a massage, or seeing a glowing or hydrated result from a facial."
Related: All About Poultice Massage (Protocol Included)
Guests can take advantage of healing massages that are guided by intention, including:
Balancing Massage uses Ayurvedic techniques and warm herbal oils to balance doshas. 
Calm Intention Massage well-being with aromatherapeutic lavender, bergamot, clary sage and chamomile for comfort and calm.
Immunity Intention is a relaxing massage with immunity-supporting essential oils.
Renew is ideal for travel fatigue, with refreshing and invigorating aromatherapy.
Love inspires self-care and a sense of joy.
Unity is a couples' massage that balances the mind, body and soul.  
The new facial treatments also include a mix of holistic and modern modalities:
Indulgence is an antiaging facial featuring protein-rich caviar and marine actives to firm and refine skin tone.
The Ultimate Hydrafacial also includes lymphatic drainage, LED light therapy and a hydrating algae gel mask.
Rejuvenate uses Intraceuticals Oxygen to naturally cool and calm the skin, followed by concentrated serums.
Glow combines vitamin C with an AlphaBeta Professional Peel System.
Body and signature treatments are intention-focused as well, with options that appeal to any spa-goer's needs:
Peace is a signature experience in which the guest is wrapped in warm linens, steeped in an herbal detox infusion, and receives a neck, shoulder, scalp and foot massage.  
Harmony incorporates a bioacoustics mat, which delivers low frequency sound pulsations for a deep, joint- and tissue-relaxing acoustic massage.
Refresh is a full body exfoliation followed by a hydrating moisturizer.
Relief includes water-soluble, broad-spectrum CBD and flotation therapy in Pearl, the resort's float orb.