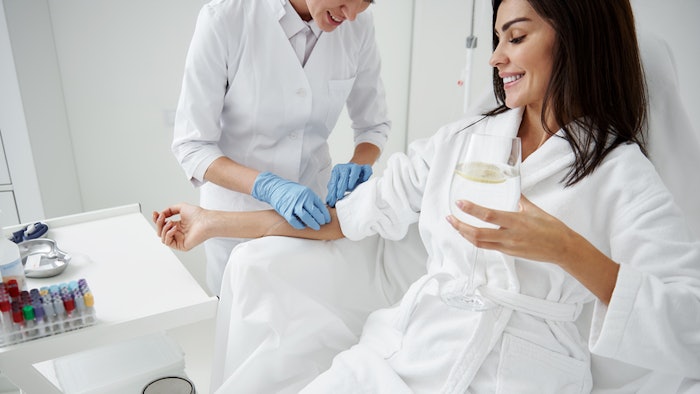 Four Seasons Resort Maui at Wailea has announced customizable and exclusive wellness offerings in collaboration with Next|Health, a renowned health optimization center. Now, wellness-minded guests of Four Seasons Resort Maui will have access to an array of Next|Health offerings, including customized IV therapy treatments, vitamin shots and more. These services are available for guests 18 to 65 years old, and include a range of options. 
Next Level NAD+ IV Drips are coenzyme treatments aimed at supporting cellular health, function and energy. The treatment has been used in programs addressing addiction, depression and PTSD. Expected benefits include elevated mood, increased energy, enhanced cognitive abilities (memory, focus and creativity), increased performance and better sleep. 
Customizable IV Therapy Drips allow guests to choose what they'd like to address, with options including:
Super Immune

Hangover
Glamour

Gut Health

Stress

And more
Plus, there are a variety of IV Add-Ons that clients can use to further customize the experience, including the exclusive Jet Lag Relief Pack: Glutathione, Hydration and NAD+, among others. A selection of Vitamin Shots is also available, providing interested guests with a number of B vitamins, biotin, folic acid, COQ10 and more. 
Finally, NEXT Labs Biomarker Testing offers an extensive line of blood panels, measuring hundreds of biomarkers to provide a complete picture of current health, allowing practitioners to determine a unique optimization plan. Pre-arrival at-home tests are also available.
"Next|Health is focused on delivering an advanced wellness offering to our customers who are looking to increase their longevity and vitality. We are excited to bring these services to Four Seasons Resort Maui, where guests will be able to access the future of health and wellness with our customizable menu while they are enjoying their vacation," said Next|Health CEO and founder, Dr. Darshan Shah.