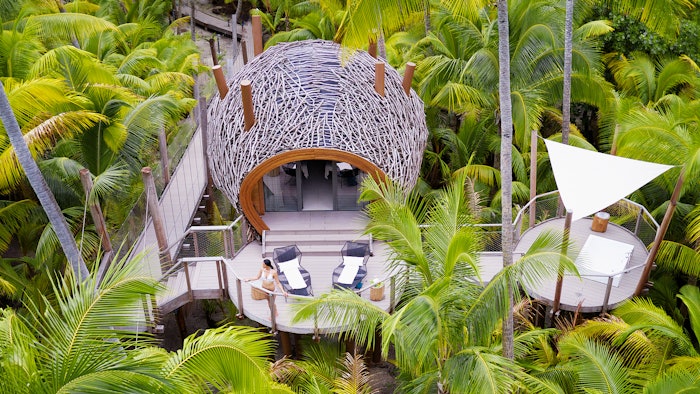 Courtesy of The Brando
The Brando, a luxury resort retreat on French Polynesia's private island of Tetiaroa, has reopened and added new holistic offerings to the Varua Te Ora Spa menu, including Polynesian pharmacopoeia, sound therapy, a selection of personalized wellness Journeys and more.
Varua Te Ora Spa specializes in holistic treatments, which combine healing therapies from ancient Polynesian and Eastern traditions, with modern techniques. Its quiet spaces for relaxation include a steam bath, waterfall, tea lounge and the Fare Mana, an area set aside for gentle energies.
The enhanced spa programming was designed to tap into the power of one's own physical and spiritual senses to center the mind, body and soul. Services like detoxifying massages, coconut body scrubs, Polynesian footbaths and sound therapy using Tibetan singing bowls help improve client wellness in a relaxing and refreshing environment.
The spa menu also includes a selection of "Journeys" that can be tailored to each individual and address four essential needs: to ground, to grow stronger, to uplift and to balance.
These wellness Journeys include purifying footbaths, immunity-boosting massages, Polynesian yoga and meditation practices. In addition, guests can take part in herbal-infused tea tastings using native plants such as purau flower, tamanu leaf and metua pua.