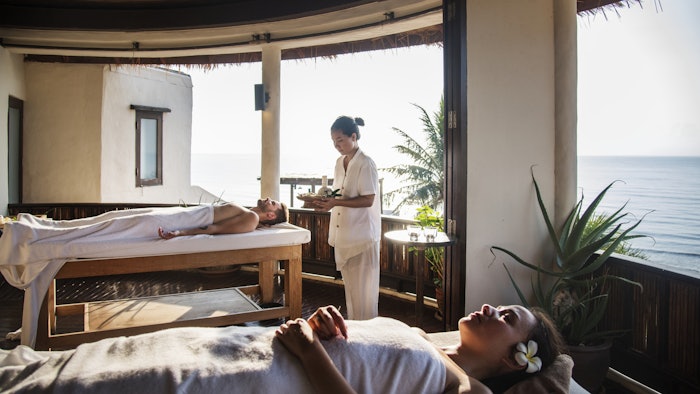 As everything continues to reopen the further we venture into 2021, more spas, resorts and wellness studios are opening or showcasing their major renovations. We've gathered some recent openings for you to keep an eye on.
1. TruFusion San Francisco
TruFusion is a full body boutique yoga and fitness studio that expanded to the San Francisco Bay Area in May 2021. This studio provides a robust roster of yoga and fitness classes, including hot yoga, circuit training, KettleBooty and Barefoot Bootcamp classes. The 12,000-square-foot space will host 15 classes a day, all adhering to the state's COVID-19 guidelines.
2. Woodhouse Day Spa North Carolina
The Woodhouse Day Spa will be opening a new location in Raleigh-Durham area of North Carolina in winter of 2022. This opening will expand the brand's footprint into its 22nd state. Sonal Patel and Esha Ray will be spearheading this development and opening. Patel has more than 17 years of franchise industry experience, while Ray is a global supply chain expert. Both entrepreneurs are passionate about luxury spas and have traveled all over the world for the best experiences.
"I love that the brand provides a distinctive, transformative spa experience that you don't have to travel hours or across the world to get to; it's an accessible destination to relax and immerse yourself in a peaceful environment. Esha and I can't wait to bring the first Woodhouse Day Spa to North Carolina and create a special place for local residents to practice their self-care, which has never been more important," says Patel.
Related: Resort Roundup: 6 Resorts Opening in 2021
3. Spa Monarch
The Monarch Casino Resort Spa has opened Spa Monarch to allow guests to experience a new sense of renewal and relaxation. Guests will experience calming aromas upon entering the spa to help them relax their mind, body and soul. They will have a view of the North Clear Creek Canyon while they relax, and they'll have access to unique specialty services and treatments at the Aqua Spa Lounge. The spa also features a nature experiential shower, brine-inhalation light therapy lounge and cardio theater and fitness center featuring TechnoGym equipment with Active Wellness TV.
4. Voda Spa Los Angeles
Voda Spa is a Los Angeles spa that is rooted in Russian tradition, and it has recently reopened its doors after being closed for over a year. Upon reopening, it pivoted to a members-only club that will provide exclusive access to the full spectrum of amenities, including an indoor pool, Jacuzzi, cold plunge, dry and wet banyas, steam room and Finnish sauna. The |V| room offers an array of food and drinks also rooted in Russian culture.
Related: 7 Spas Opening in 2021
5. Four Seasons Hotel Chicago
The Four Seasons Chicago reopened in April 2021, inviting guests to enjoy the facility after completing a multimillion-dollar renovation. The hotel has in-room offerings that allow guests to have a more secluded wellness experience. Guests can reserve a "Mojitos and Manicures" experience to sip on custom cocktails crafted to their taste while receiving an express manicure in the comfort of their room. The spa is open to adults and children to enjoy the heated indoor pool with kickboards, noodles and floaties available upon request.