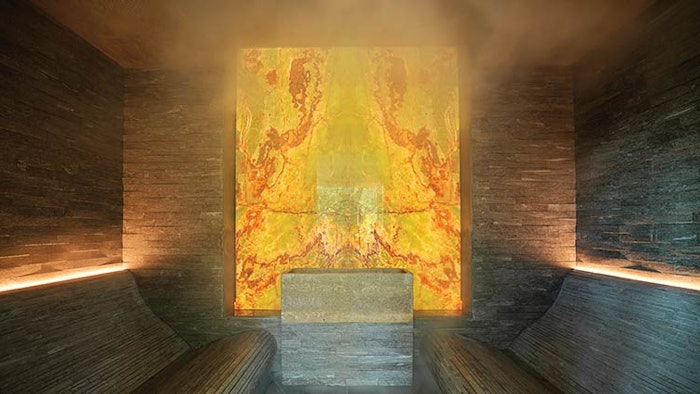 After months upon months of closures, lockdowns and uncertainty, 2021 is the undisputed year of fresh starts—and what better way to get on board than with an updated spa interior? Creative design company Sparcstudio and Boutique Hotelier have reported on the spa design trends we'll be seeing as the year unfolds, and the common thread that emerges is a reconnection with nature, literally and figuratively. From minimalism and outdoor spaces to organic lines and upcycled materials, destinations and spas the world over are looking to help guests feel more grounded and closer to Mother Earth via these five design concepts.
1. Clean Lines
"Japandi," a combination of Japanese architecture and Scandinavian aesthetic, is characterized by clean lines, minimalism, earth tones and natural materials—which also ties in with consumers' renewed interest in businesses that operate as sustainably as possible. "This new hybrid concept embraces escapism and works to create a calming, comforting atmosphere," explains Sparcstudio creative director Beverley Bayes. "Expect to see neutral, earthy color tones, natural stones and timbers contrasted with soft linens and fabrics."
2. Elevated Privacy
As social distancing becomes second nature, private areas will be key as spas reopen post-pandemic. This includes intimate suites, dedicated areas for small groups and other private zones within the spa. "As the pandemic has continued, spa guests are valuing their own space and privacy much more," says Bayes. "I expect to see a growth in the demand for intimate spa suites and couples' rooms with private changing pods. These can be designed with a dual function and include a bathing element or hydro pool, sauna and steam room, and offered as a premium service."
Bayes adds that some spas are finding ways to "subdivide" and create separate areas for couples and groups. "Clever space design can facilitate this so that the private spaces can be extended or removed (utilizing a contemporary take on Japanese shoji-style screens) depending on the size of the group and the spa's capacity," she says. "In addition to treatment and relaxation spaces, we're designing micro 'gyms within a gym' and gardens within a spa garden to provide more private zones as part of the spa experience.''
Indeed, bookings for private suites are already on the rise among spas that have reopened, and according to Maria Nystedt, project manager at Raison d'Etre, these separate sections are ripe for integration into overall wellness experiences and rituals. "To make a spa suite attractive, it should be considered in a similar way as when designing a wet area journey where guests move from station (or experience) to station," she explains. "This will then feel like a sequenced experience, and spas can even introduce exclusive extras that are only available in those suites, such as horizontal showers, infrared saunas and multifunctional treatment beds."
Spas looking to go big can also implement individual light, color or sound therapy pods—many of which don't need a therapist to operate; on a smaller scale, they can simply carve out private "mini-alcoves" in relaxation areas, says Nystedt.
Continue reading our Digital Magazine for the other 3 spa design trends...
Courtesy of Sparcstudio