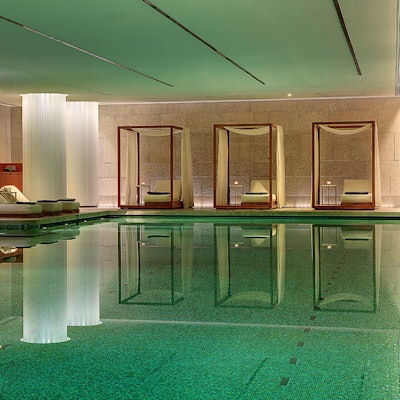 [Image: Courtesy of Bulgari Hotel, London]
The new 22,000 sq. ft award-winning spa at the Bulgari Hotel London is spread over two floors and will feature a variety of underwater routines involving elements of pilates, ballet and holistic Chinese Chi Gong therapies. Focusing on core conditioning, whilst helping to improve body posture, movement and breathing.
Aquatic Bodywork Therapies at the Bulgari Spa, includes 4 underwater exercises – Barre; Training; Recovery; Chi Gong – is ideal for those wishing to try a new form of body and mind exercise.
Pool Barre (totally exclusive to the Bulgari Spa)
The perfect body altering experience exclusive to the Bulgari Spa that mixes heart-rate rising arm, abdominals, glute and leg work with intervals of stretching and strengthening.
Pool Training
A transformational session which includes underwater power-stations – weights, treadmill – with breaks in-between — causes the heart rate to increase while increasing stamina.
Pool Recovery
A full body workout using bodyweight movements and water resistance to build muscle and strength.
Pool Chi-Gong
Designed to build flexibility, endurance and strength, Pool Chi-Gong offers a calming exercise that blends meditation and breathing exercises with body movement, ultimately leading to a clearer mind and a leaner and stronger physique.
All of the sessions will be priced at £125 per session and will be a 60 minute session.