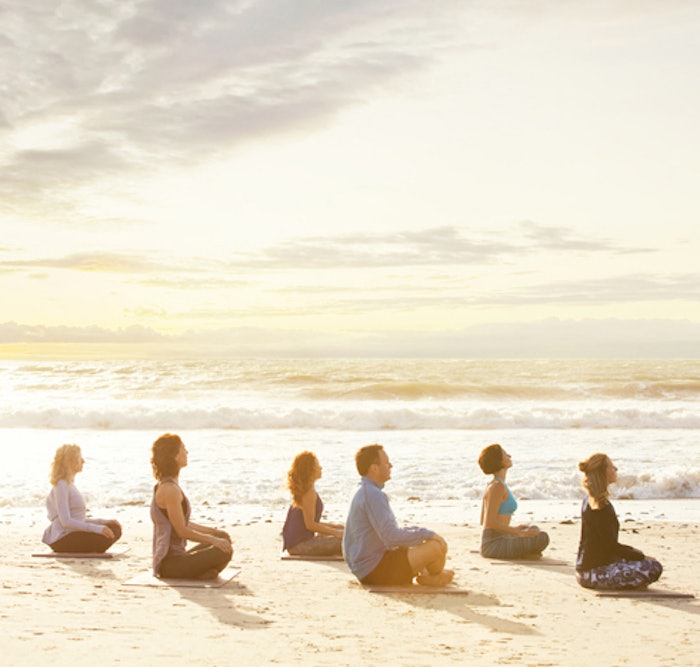 The wellness mantra "Breathe" becomes equally meaningful (and enjoyable) when restorative treatments, yoga and mindfulness practice incorporate meditative water views and fresh-air breezes. Guests seeking environments to destress are naturally drawn to ocean-, river- and lake-front spas, particularly those that embrace the great outdoors—both indoors and out—through creative wellness retreats and spa programs that take advantage of natural settings. Here's the second part of our insider look at spas that are creatively harnessing the restorative power of earth, wind and water to help customers cultivate equanimity and well-being.
RELATED: Wellness Spas Harness the Great Outdoors, Part 1
The Spa: Situated on the coast overlooking the Pacific Ocean in Southern California, the new Miraval Life in Balance Spa at Monarch Beach Resort is a state-of-the-art resort in the heart of the 400-room property, which recently revealed a $40 million renovation. The spa offers more than 70 signature treatments from the original Miraval Resort in Tucson, Arizona, and added exclusive new treatments that incorporate sea salt, crystal salt stones, algae and marine muds to complement Monarch's coastal setting. The 30,000 square-foot facility encompasses 24 treatment rooms, spa suites, relaxation and tranquility zones, a boutique, a Drybar, a Deborah Lippmann Nail Salon and a spa café, which promotes Miraval's mindful-eating food philosophy.
How it Integrates Wellness: Miraval Life in Balance Spa merges luxurious spa treatments–including NÂGA and Shamana-Karma–with dynamic wellness activities such as extensive yoga, mindfulness and meditation programing. The Body Mindfulness Center features the brand's Cardio Drumming, Mindful Spinning, Aerial Yoga and Floating Mediation classes. Mindful Stress Mastery and Mindful Eating at Miraval are complemented by oceanfront programs such as Beachside Meditation, Zen Boot Camp on the Beach, Sunset Yoga and Authentic Connections (50 min/$15 each). Innovative mat classes include Indo Board Yoga, which mimics stand-up paddle board yoga without getting wet. Regular visiting specialists are experts in mindfulness, yoga, meditation and fitness, and offer one-of-a-kind classes and talks such as Shamanic Energy Healing.
Outside-the-Box Thinking: "Miraval Life in Balance offers programming from Ayurvedic treatments, mindful eating culinary experiences, visiting mindfulness specialists, to innovative fitness classes like BOGA and Aerial Yoga," says MacKenzie MacDonald, assistant director of Spa, Programming & Fitness. "Our classes and events all aimed at introducing guests to new wellness concepts and opportunities to enhance their lives. We encourage guests to try new things and stay curious."
RELATED: Four Seasons Costa Rica's New Wellness Program
The Spa: `Āwili Spa and Salon at Wailea Resort is a premium spa resort on Maui's cinnamon-sand beach. The 15-acre shorefront property has 300 spacious guestrooms and suites, four infinity pools, five dining options and a 24-hour Matrix fitness center. `Āwili's (Hawaiian for "to blend or entwine") spa and recreation activities on the beach include Kayak tours and sunset yoga and the full-service, ecofriendly spa brings the outside in: ocean-facing treatment rooms feature picture windows that open wide to welcome the fresh sea breeze indoors.
How it Integrates Wellness: Yoga instructor Tracy Keenan leads `Āwili's sunrise and sunset yoga sessions, and challenges the norm with a weekly stand-up paddle-board yoga class for an intimate group of up to eight people. Most unique is `Awili Spa's apothecary program in which treatment products are made in-house and are individualized to fit specific guest needs. Custom-blended products are used in add-on services for spa massages, body treatments or facials, and pre-made retail products are sold for take-home use. Apothecary consultants are on staff to assist guests in blending personalized products to custom create body scrub, body wrap, body butter or massage oil based on goals and preferences. All blends bring the Hawaiian outdoors inside by featuring locally grown and harvested elements from Maui, including kukui and macadamia nuts, coconut flakes, awapuhi flower, ginger and tea power suspended in honey.
Outside-the-Box Thinking: "Our apothecary consultants make our products in-house every day to ensure everything's very fresh," says spa director Jackie Yulo. "Custom products for treatments are made on-the-spot with the guests' participation, and we use the purest ingredients available as we strive to keep our ingredients preservative free and as natural as possible."
RELATED: Paving the Path to Guests' Health
The Spa: Built into the natural surroundings of the Kona coast on Hawaii's Big Island, the Four Seasons Resort and Spa doesn't need much to coax wellness-seekers outdoors. The property's 28,000 square-foot Hualalai Spa is complimented by seven swimming pools, a Jack Nicklaus golf course, one-on-one fitness attention and beach activities like ocean-front yoga and stand-up paddle boarding.
How it Integrates Wellness: Hualalai Spa features a long list of wellness treatments and programs including oceanfront meditation, energy healing, sound therapy and acupuncture. For guests looking to pump up their heart rates, Hualalai Sports Club offers Pilates reformer classes, yoga, cycling, outdoor stretching deck, a 25-meter lap pool and eight Ace Rebound tennis courts. For a truly Hawaiian experience, Hualalai's outrigger adventures steer participants through a cultural paddling workout on the surf. Alaka'i Nalu (Hawaiian for "leaders of the wave") staffers teach the basic skills of outrigger paddling and show guests the ropes for a solo, couples or family adventure that interacts with the powerful force of the ocean. Four- and six-man/woman outrigger canoes (60 min./$300) explore the Ka'upulehu coast. For a more personal challenge, there are guided canoes for one- and two guests at a time (60 min./$150 per person). Learning about the ocean conditions is a key in this program, which harkens back to the Hawaii of the 1930s and '40s, when beach boys were respected stewards of the sea.
Outside-the-Box Thinking: "We take a truly comprehensive approach to wellness for our guests," says spa director Crystal Poe-Cabatbat, who coordinates the outrigger program with Trent Fischer, director of ocean activities. "Our destination is so closely tied to the ocean that we feel that by making ocean activities accessible to our guests, we're simultaneously showing them a part of the culture and history of Hawaii. The best part about what we offer at Alaka'i Nalu is that our guests exercise their body, mind and soul at the same time. Being out on the ocean on an outrigger canoe, stand-up paddle board or even our new Ribcraft boat is a truly awe-inspiring experience."
—by Vicki Arkoff