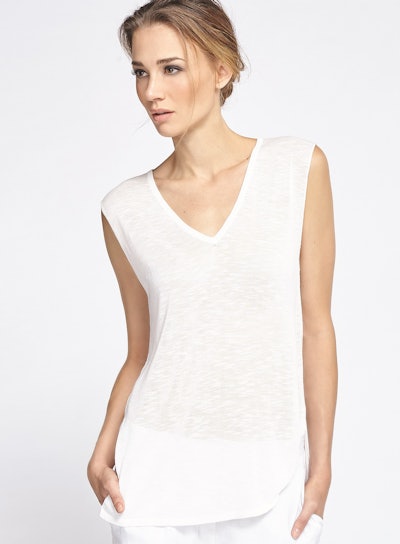 The premium apparel and accessory brand developed as an extension of wellness and pampering.
Vancouver-based designer Noel Asmar Group have expanded their portfolio of lifestyle brands with the addition of Noel Asmar Fashion. The company previewed its fashion collection with a whimsical fashion show at the ISPA expo this past September. The sensual apparel-designed with exquisite fabrics for the woman who desires effortless pieces that can be styled with ease-and Italian-made handbags and accessories will launch in luxury spas and resorts and high-end boutiques throughout North America Spring 2017.
Modern and elegant, the ultra-feminine designs in a soft palette reflect the intuitive, chic, globetrotting style of founder and CEO Noel Asmar.
"We design the type of clothes that make us feel good, and use fabrics that feel good against our skin-such as buttery modals, soft stretchy Italian silks and technical light weight linens that travel well and pair with ease. Our customer is looking for quality; she wants key pieces she can take anywhere. She likes to dress up, but doesn't want to complicate it," says Asmar. "After 15 years of designing spa and hospitality uniforms for luxury properties, we understand every type of body from a size zero to an 8X. Developing a line for women 'on the go' is a passion that continues to evolve through women's fashion & accessories.
Noel Asmar apparel and accessories provide a sense of calmness and tranquility. Ideal for resort wear and travel, the timeless essentials embody the Noel Asmar credo, "Made for the Way You Move." Everything in the collection is designed to travel beautifully. Wrinkle-resistant, premium fabrics wrap women in luxury-making them feel pampered like they did in the resort spa environment.
"Spa retail should be an extension of the pampering and luxury the guest experiences in the spa," said Terry Prager, Director of Wellness & Spa at Villagio Resort in California's Napa Wine Country. "Noel Asmar's Spring Collection is elegant but not overly fussy-the perfect combination of European Chic and California casual. The pieces are easily mixed and matched, to take our guests from wine tasting to a fancy dinner in comfort and style. The Italian handbags are a retail 'no-brainer' for Villagio's world class traveler. What lady does not like a beautiful handbag?"
Both Noel Asmar uniforms and the fashion collection are 'made for the way you move,' with consideration to fabrics, stretch, breathability, comfort-a tribute to the senses. Clever details and luxurious fabrics make up minimal lines and sophisticated silhouettes for a polished and elegant look.
"It is the way people feel while wearing our products that tie all of the divisions together," says Asmar. "I smile at the thought that our company is contributing to beauty one category at a time. The essence of what drives me as a designer is to make people feel good about themselves. Our apparel celebrates confidence, allure and an overall sense of wellness The way we dress affects the way we think, the way we feel, the way we act and the way others react to us. It has been so rewarding to make practitioners feel pretty, empowered and 'dressed to impress.' Now I am expanding my reach to a broader audience."
[Image: Courtesy of Noel Asmar]