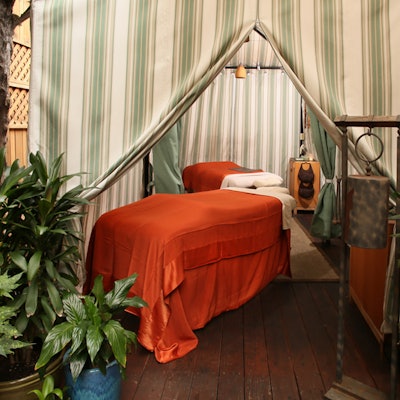 [Image: Courtesy of Larchmont Spa Sanctuary]
New owners re-create a popular respite for urbanite couples in the heart of Los Angeles.
It became a familiar story in the early 2000s: A stressed-out, overworked corporate executive spends so much time recovering in spas, she finally decides to buy one. However, unlike the many newly minted spa owners whose business savvy was no match for the Great Recession of 2008, Tina Figueroa has a happier story to tell.
For one thing, the timing was better. It was 2013 when Figueroa realized that her 90-hour workweeks were taking a toll. Around the same time, her husband Scott Buss had discovered a jewel box of a day spa called Le Petite Retreat, located in the Larchmont neighborhood of Los Angeles and now on the market.
The pair gauged the spa's potential. Located in a charming, 100-year-old frame house, it had beautiful bones. Having previously been run by a couple, it was designed with couples in mind, boasting large spaces where twosomes could relax without having to leave town. Plus, the Larchmont area was slowly "going hipster" thanks to locals with a thirst for new places to explore. Without hesitation, Figueroa and Buss bought the property and soon renamed it Larchmont Sanctuary Spa.
Figueroa knew that to make Larchmont Sanctuary Spa a success she'd have to find a way to give in-the-know Angelenos reasons to keep coming back. Catering to couples was a start, but there was more to consider, such as the proximity of entertainment industry folk accustomed to receiving top-notch care designed just for them.
"Our most asked-for service is our head-to-toe Head Over Heels massage (90 min./$156), which is an all-inclusive, fully customized experience—reflexology, scalp treatment, you name it," says Figueroa. "I don't ask staff to give the same massage to any two people, because everybody's different."
About half of the day spa's massage and body treatment guests are couples and, although there are more female than male facial clients, the disparity isn't as great as one might think. "Because of the enlightened community we're in, men don't have to overcome biases and worry about being judged because they care about their skin," she reports.
It's not just the client's individuality that's taken into account here: Each staff member is meticulously assessed as well. Figueroa's business acumen comes strongly into play in this arena—as a former vice president of human resources, her hiring strategy is precise. "When selecting employees, I first assess whether they have technical skills and diverse abilities. Then I find out about their customer service approach," she says. "And most importantly, I look at their passion. People who have a passion for what they do tend to excel. They find meaning in their work and feel that they make a difference."
Once Figueroa brings a therapist or front desk staffer on board, her management style becomes decidedly hands-off . "I give my employees the freedom to do what they want— to communicate with their clients and provide them with exactly what they need," she says. "The idea is to treat people like adults who can use their own judgment and do what's right. That's how you help develop staff and build a team."
Figueroa's wellness philosophy is about balance more than purity. "I'm holistic and eclectic," she explains. "I believe in everything in moderation except for things that really poison you. I'm not strict—we'll have champagne, for instance—but we emphasize a balanced lifestyle."
Larchmont Sanctuary's diverse treatment menu aptly illustrates the owner's point of view. The spa's signature Jade Stone Massage Therapy (60-120 min./$140-$250) delivers a hot-cold (yang-yin) stone treatment, increasing circulation while reducing inflammation; the signature Ultimate Vitamin Therapy facial (90 min./$199) makes use of medically approved Environ skincare products, and incorporates sonophoresis (ultrasound) and iontophoresis (pulsed microcurrent) technologies to up the ante on results. The spa also provides oncology massage—a direct result of Figueroa's mother's battle with the disease—as well as pre and postnatal massages, and other wellness offerings.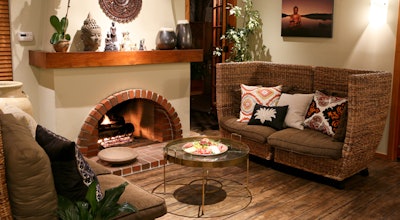 The space itself is deeply restorative. Just steps away from a bustling boulevard lined with businesses lies the spa's expansive relaxation lounge, complete with a cozy fi replace and cushy furniture, plenty of tea and healthy snacks, and just the right amount of natural light streaming through the window. The hydrotherapy room features an oversized, copper-lined tub surrounded by river rocks that the bather can touch and hold while soaking. Treatment rooms and well-stocked changing areas round out the space, lending a comfortable and comforting atmosphere that balances intimacy with a sense of abundance.
"I've been all over the world, and I wanted to create a place where people could take time out of their day, have a fantastic treatment and feel like they've really been 'away,'" reflects Figueroa. "The key message for clients here is, 'We're doing everything we can to invest in you.' Yes, it's a business and we want to make money, but we also want people to have a meaningful and valuable experience. This is a venture of love, and I want clients to know we care about them."
Ever the businesswoman, Figueroa instinctively understood from the beginning that to bring true wellness to the Larchmont community, she had to become part of it. With their spa located on the main thoroughfare for which the neighborhood is named, the couple joined the area's business association and Figueroa even serves on the board.
"We try to support local businesses and cross-market with them," Figueroa says. "For instance, we noticed a lot of guests asking for recommendations for places to eat lunch or dinner after their treatments, so we partnered with an Italian restaurant down the street, and we now offer a spa treatment and dinner package. We feel that if you make others successful you'll be successful too." To maintain her messaging, the tech and web savvy Figueroa utilizes social media. She does most of her advertising on Facebook, and also makes use of Yelp. "It's a little bit like dating the devil, but it's where we are," she admits wryly. The rest of her recipe for success is about ensuring repeat business and referrals through great customer service, tempting promotions and blissful treatments. The service menu is changed every 6 to 12 months based on customer feedback. "We send out a newsletter to ask clients what they want," says Figueroa. "If we can provide it, we do."
But it's not just Figueroa who runs the show—she and her husband are a study in cooperation. When her mother passed away this past February, she took advantage of an offer to work for an ad tech company, and Scott left his job at IBM to go back to the spa. "That's teamwork," she says. "That's what makes us and the spa happy."—Linda Kossoff