The treatment joins the Kona Kai Resort spa's extensive list of wellness offerings.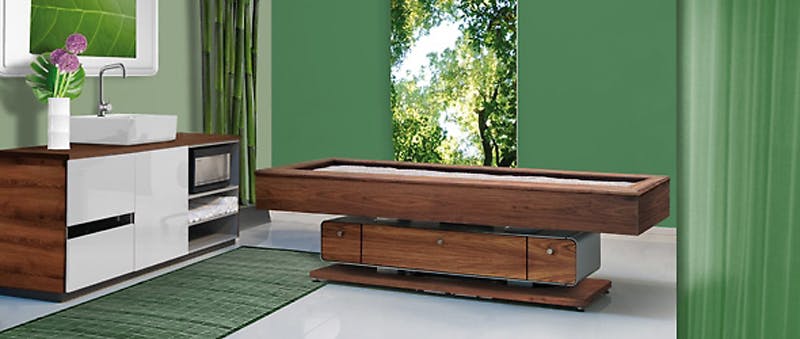 The Kona Kai Resort & Spa, located on the tip of San Diego's historic Shelter Island, has added a revolutionary heated quartz sand bed to its extensive wellness offerings at SpaTerre. The sand bed is known to generate a deeply affecting warmth that not only provides physical and mental relaxation, but also stimulates the metabolism and has a purifying effect. With only 16 of such beds available in the United States, and only one in San Diego, guests of Kona Kai Resort & Spa will be treated to exceptionally unique new treatments including the "Sandor Poultice Therapy" and "The Heated Sand Box."
"We are very excited to offer these incredible unique spa treatments at Kona Kai's SpaTerre to our savvy guests," said Dan Pierotti, Vice President of Spa Development and Operations for Noble House Hotels & Resorts. "Sand heated by the sun has been a traditional method for thousands of years, even used by ancient Egyptians, and now with a modern twist, we can provide effective, holistic treatments for guests looking for full relaxation."
The "Sandor Poultice Therapy" is specifically performed on the one-of-a-kind Crystal Quartz Table, and can only be found locally at SpaTerre. It's a soothing customized massage preformed with heated sand poultices combined with warm aromatherapy oil, which activates the different reflex zones of the skin, stimulates the blood circulation and removes toxins and waste products. This highly effective massage method melts away tension and regulates energy flux. Guests can book the "Sandor Poultice Therapy" at SpaTerre for $225 for 80 minutes, offered year-round.
Additionally, heralded as a completely new concept re-imagined in modern spa treatments, "The Heated Sand Box" treatment is based on the ancient Greek concept of "psammotherapy," which uses warm sand to alleviate pain and promote comfort. The warm sand ergonomically positions the guest, offering relaxing effects to the body and the soul. The treatment relieves muscle pain, arthritic pain, stiff joints and joint pain facilitating a deeper sense of relaxation. "The Heated Sand Box" treatment is available at SpaTerre for $40 added to any massage, also offered throughout the year.