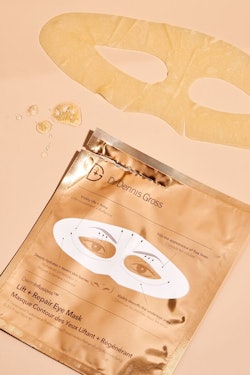 Dr. Dennis Gross Skincare's DermInfusions Lift + Repair Eye Mask is a soothing and comforting Lyocell–delivered vitamin infusion using naturally sourced, 100% biodegradable fibers to seamlessly contour the entire 360-eye area.
This alternative to injectables visibly improves age-related volume loss and enhances the results of aesthetic procedures. The mask is designed to fill the appearance of fine lines, deeply hydrate and repair the skin barrier while depuffing the undereye to provide visible lifting and firming around the full 360-eye area.
Key Ingredients
Purified cellulose material derived from wood pulp through natural processes, this 100% biodegradable, skin-friendly material is highly absorbent and forms an occlusive barrier that provides deep hydration and infuses active ingredients into the skin.
This essential vitamin and antioxidant stimulates ceramides and prevents water loss to strengthen and repair the moisture barrier improving dullness. It also helps to refine the appearance of pores while brightening and evening skin tone.
This potent antioxidant protects, and repairs skin cells essential to produce new collagen in the skin, which helps to improve the appearance of lines, wrinkles and firmness. It also helps to prevent hyperpigmentation, signs of sun aging from surfacing and helps even skin tone.
This natural antioxidant is rich in polyphenol EGCG, which protects against free radicals and environmental aggressors. Contains anti-inflammatory properties to help soothe skin and prevent redness.