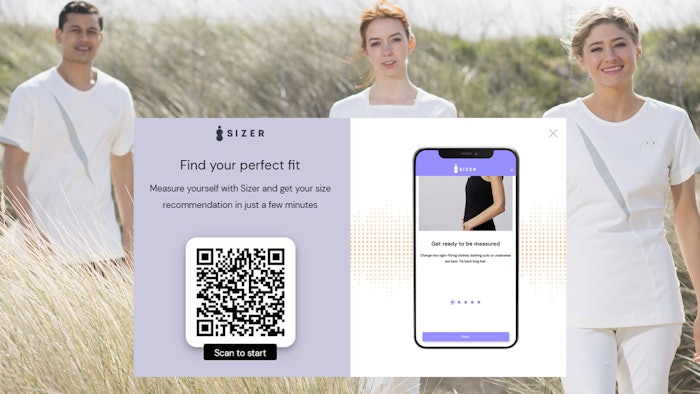 Photo courtesy of Fashionizer Spa
Fashionizer Spa partnered with Sizer, an AI body measuring tech company that helps users capture body measurements and deliver highly accurate size recommendations, to offer spa owners tools to find the best fitting spa staff uniforms. 
The process is quite simple; using the front camera of any mobile device (after confirming it's positioned correctly), Sizer verbally instructs users how to perform simple poses, so it can collect images from various angles and determine their exact body contours. 
After completing these steps, the customer is given a personalized size recommendation. It is important to note that Sizer never stores or shares any user images and the application can be deleted after use.
Following the new partnership, Sizer gives recommendations that are in direct response to Fashionizer Spa's measurement chart. This allows Fashionizer to match its customers' unique body measurements against specific garments allowing for a convenient and user-friendly method.
Related: Fashionizer Spa & Aromatherapy Associates Renew Partnership for Unique Spa Uniforms
Fashionizer Spa can now provide a quick, simple, private and accurate measuring process for clients worldwide, utilizing two of Sizer's tools.
Sizer's online widget which gives size recommendations for online shoppers.
A central dashboard – using collected measurements from clients – analyses and provides detailed breakdowns of entire orders for all staff.
Fashionizer Spa says this innovative collaboration will empower customers to make the most suitable online purchases, increasing accuracy and fueling the drive for a more sustainable online shopping process.