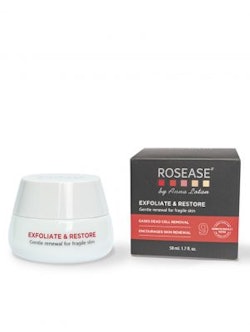 Anna Lotan Pro Exfoliate & Restore Gentle Renewal is a concentrated delicate lipogel that effectively exfoliates dead cells from epidermal layers while gently enhancing skin renewal. The pampering massage exfoliating gel may also be used on specific areas of the body where extra smoothing is required such as stretch marks or generally dry, flaky areas.
Oily impure skin (post-acne) will gain a smoother texture and reduced oiliness for days following Exfoliate & Restore treatment. Mature, Fragile, Sun-damaged skin will gain a silky smooth texture with improved elasticity; visible solar-damaged areas may appear lighter or even disappear.
It is formulated with lipid components like glycosphingolipids, phospholipids and cholesterol, in addition to Phyto-sterols, to support the skin's barrier function, and premium fruit and seed oils such as carotene-rich Siberian Seabuckthorn and Carrot oil; Peruvian Sacha Inci (Plukenetia Volubilis) oil rich in Omega 3. 
Water-soluble components:
Acemannan – A high purity, freeze-dried extract of Aloe Vera leaf juice contributes its polysaccharides for improved skin hydration.
Sodium Hyaluronate, Glycosaminoglycans act together with moisturizing hygroscopic
Dead Sea water enhances the skin's moisture retention capacity.