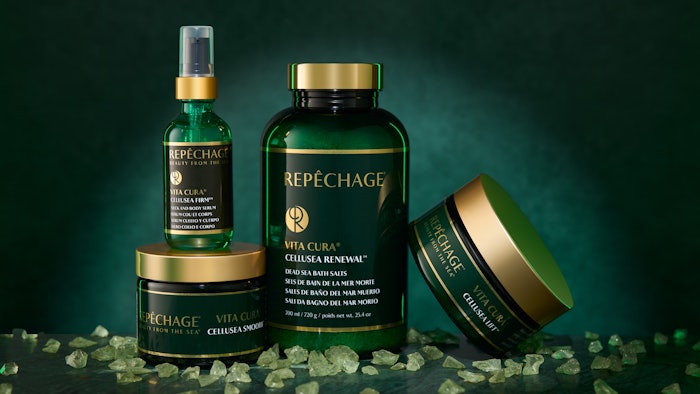 Repêchage has launched Vita Cura Cellusea, a luxury line of bath and body products. The collection features four products formulated with ingredients typically found in facial skin care, meaning that they not only nourish the body but also the skin. 
Vita Cura CelluSea Renewal Dead Sea Bath Salts contain beneficial magnesium, calcium, sulfur, bromide, iodine, sodium, zinc and potassium. Plus, essential oils of orange, grapefruit, lavender, cucumber and mint instantly transform a bath into a spa experience, renewing and relaxing the body, mind and skin.
Related: 4 Innovative Spa Treatments
Vita Cura CelluSea Firm Neck & Body Serum is a rich fluid packed with powerful ingredients, including the brand's Laminaria digitata filtrate, peptides, red algae, caffeine, vitamin C and other botanicals that smooth, lift and firm skin's appearance.
Vita Cura CelluSea Smooth Multi-Action Body Exfoliator is formulated with seaweed, cocoa and caffeine. The sugar-based scrub can be used to improve the appearance of contours while sloughing off dry, dull skin. Containing a natural mix of essential mint oils, it also invigorates the senses and leaves skin feeling cool and energized.
Vita Cura CelluSea Lift Body Contour Cream smooths the skin and helps reduce the look of dimpled skin in all areas of concern. Powered by seaweed extracts, Coenzyme A and caffeine, along with a biopolymer complex that lifts and smooths the skin. This cream can be used in conjunction with the Repêchage LED Radio Frequency and EMS Skin Tightening Machine for deeper penetration into the superficial layers of the skin.