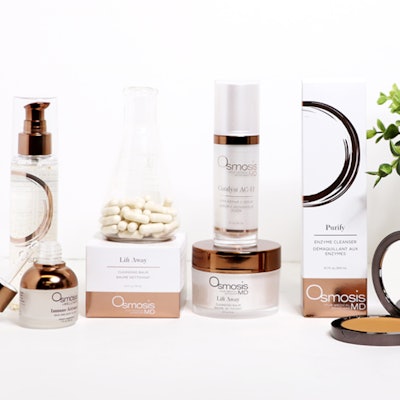 Osmosis is now under a new brand name, fully transitioning into and merging under the Osmosis +Beauty umbrella. Now as Osmosis +Beauty, several key changes will distinguish the core of the brand moving forward. This includes new prestige, rose gold packaging, a new online identity, and a new combination of product collections: Osmosis +Skincare, Osmosis +Colour, Osmosis +Wellness, and Osmosis MD.
Upholding the brand philosophy started over 10 years ago, Osmosis +Beauty will continue to create skincare products and treatments founded on medically developed, clinically validated, and consumer-proven results that are patented, tested, and trusted. Each innovative offering will remain doctor-developed and medical-grade, formulated with patented actives and proprietary nutrients that deliver transformative results without harming the skin. Meanwhile, the line's makeup will feature gentle, non-toxic ingredients, botanicals, and natural pigments, while the wellness supplements and rejuvenating elixirs will remain inspired by the skin-body connection for inner health that radiates outer beauty.
"In a world where we can be anything, at the new Osmosis, we choose to be kind: to ourselves, to one another, to our skin," says Robin Silber McGee, CEO of Osmosis +Beauty. "As the most trusted professional skincare brand for the past 10 years, Osmosis has led the way in cutting-edge innovation and impactful results; but we won't stop there as we continue to transform and evolve our brand."
New Professional Collection
In this transition, the current Osmosis Skincare and MD collections will become one professional offering: Osmosis MD. With a modern look and secondary packaging with dual languages, this collection will be exclusively devoted to the professional. Osmosis +Colour and Osmosis +Wellness will encapsulate the new look and feature innovative products and enhanced formulas.
New Direct-to-Consumer Collection
Osmosis +Skincare will be a selection of skincare products inspired by the professional collection. With distinct packaging, new product names, and tailored formulations, this curated collection will be sold exclusively to non-professional e-commerce partners, Amazon, and retail-based businesses. +Colour and +Wellness will remain available to this market.
New Product Packaging
All products will be in prestige packaging featuring metallic copper accents with beautiful white and rum foiled boxes.
New Online Identity
New branding will be reflected throughout social media and a new website via www.osmosisbeauty.com and www.instagram.com/osmosis_beauty.
"In 2019, we are taking our unique message to the next level with curated collections that support our Professional Partners while also making many products available to consumers across the US," said Silber McGee. "I want to thank everyone who has supported us so far, and we are so excited to share our new vision with the world. Welcome to our innovative state of transparent, healthy beauty."