1) Assign the Right Resources – When it comes to establishing how many employees and how many appointments should be allocated to walk-in clients, consider the nature of your business: A nail salon in a strip mall can usually forecast expected walk-in flow, while a busy high-end hotel spa that requires extra prep (lockers, amenities) will typically set aside a few appointment times, divided among available therapists, for walk-in hotel guests. "The best thing a spa can be is flexible," says Rose Brenkus, spa director at Bamford Haybarn Spa at 1 Hotel Brooklyn Bridge in Brooklyn, New York. "So if you can have a therapist or esthetician on call, take advantage of that option. And, if your spa has available treatment space, always leave room on the books for walk-ins." Bear in mind that weather is another factor to consider, notes Brenkus: "If it's raining, business may actually pick up as people look for things to do indoors."
RELATED: How to Capitalize on Live Streaming to Boost Your Business
2) Establish Open Lines of Communication – When disclosing wait times to walk- in clientele, Bevin Hamilton, spa director at Larchmont Sanctuary Spa in Los Angeles, agrees that honesty is the best policy. "Clients come to a spa to escape their stressful lives and they can only relax if they feel cared for," she notes. "Being open about any behind-the-scenes snags or holdups while they wait ensures that guests will trust the staff, even when things are taking longer than anticipated."
3) Choose Your Words Wisely – Avoid a simple "Sorry, we're booked," if you can't accommodate the walk-in guest at that moment, suggests Rebecca Jones, chief people officer for European Wax Center (EWC). Not only does this leave them without options, but "you miss the opportunity to introduce a new client to your brand," she adds. "Also, we'd never insinuate that the guest is at fault for not making an appointment. Instead, we'd say something like, 'I apologize that we don't have a wax specialist available right now; however, we do have time later today or tomorrow at 10.30 a.m. Which is best for you?'" The goal, explains Jones, is to make it easy for potential guests to book an appointment, even when you can't immediately serve them.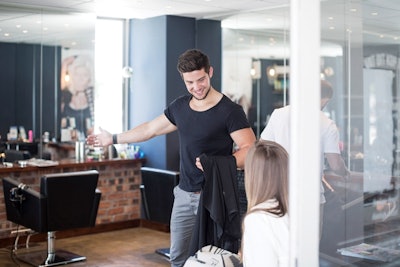 4) Decide Whether to Promote Walk-In Availability – Advertising to walk-ins depends on the nature and location of your business. EWC, whose stores are situated in high foot- traffic locations, doesn't overtly publicize walk-in availability to clients, whereas Bamford Haybarn Spa ensures that hotel team members communicate the spa's location and walk-in availability to hotel guests. "Encouraging these types of clients has been a large business driver for us, especially on Fridays, Saturdays and rainy days," shares Brenkus.
RELATED: 8 Strategies to Boost Your Spa's Online Product Sales
5) Set Realistic Expectations – The ability to accommodate these guests depends on several factors, including the type of service, time of day and employee availability. "Some appointments such as an upper lip or chin wax require less time to complete and can be more easily fit in between scheduled guests," points out Jones. "However, more time-consuming wax-services–bikini, legs, arms or back–are typically more difficult to accommodate." The goal is always to work something out for the guest, she says, adding that if this isn't possible, "You should at least leave them feeling as though every effort was made to do so."
6) Protect Your Margin – Starr cautions against offering any type of discount or incentive to walk-ins who can't be seen right away. "Be kind, offer coffee and maybe a warm neck wrap," she says, "but you can't dig into your margin because of the client's failure to reserve a spot ahead of the need." Doing so ultimately gives the impression that they never have to book in advance.
7) Treat Walk-Ins Like Any Other Client – Hamilton says that staff members often feel pressure to make a sale—any sale—at any price, which can harm their brand image. "You have to be disciplined in every facet of your business, including how you design your walk-in strategies," she notes. "Your policies dictate your image in online reviews and word-of- mouth referrals, so be fair and consistent." In other words, if you want to convert new clients, you should show them the same courtesy and respect as you do your loyal ones.
–by Marina Kay
In this age of instant gratification, spa and salon owners are likely to experience an uptick in walk-in clientele. "Spa and personal care businesses now vie with so many options for guests' attention," says Lisa Starr, DAYSPA contributing editor and senior spa consultant with Wynne Business. "You want to have the ability to accommodate that last-minute request or walk-in, as clients today are much more impulsive." To make the most of extra foot traffic without sacrificing your standards, read the following insider tips.