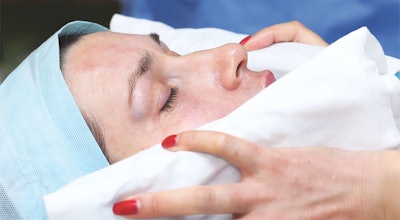 Help clients reduce the redness and discomfort associated with this unique skin disease.
In what ways does rosacea differ from other skin disorders?
Deedee Crossett, owner, Skin on Market, San Francisco: For starters, rosacea should always be medically diagnosed. Studies have shown that people suffering from rosacea have an abnormal response to microbial Demodex mites, which are present on everyone's skin. There's also evidence that it's a vascular disorder, and that 'flushing' and increased blood flow may thicken the skin. Anything that causes a predisposed rosacea client to flush is considered a trigger. I advise these clients to write a daily food and activity journal—maintaining a consistent skincare routine, avoiding stress and being aware of specific triggers can dramatically help them keep their skin healthy.
Tracy Babini, esthetician, Emerald Springs Spa, Lancaster, Pennsylvania: Although the cause of rosacea is unknown, we do know that there is a correlation between rosacea symptoms and triggers. Flare-ups will be visible for unspecified periods of time, but can also fade when triggers are absent. Rosacea is difficult to diagnose; sometimes it mimics acne, but the papules and pustules are not infected. Unfortunately, when the condition is misdiagnosed, those afflicted can end up receiving treatments with harsh ingredients that may further aggravate their condition.
J. Scott Berry, owner, J Scott's Skin Care & Day Spa, Leesburg, Florida: Because rosacea can be so challenging to diagnose, I often see clients who have been told they have rosacea but actually have other conditions, such as adult acne, dermatitis, or reactive or sensitive skin. I tend to see more rosacea in Irish, English, Scottish and Native American skin. It's important to ask questions to find out what triggers the redness or flushing in each client. The most common triggers are exercise, extreme heat, alcohol (especially wine) and spicy foods—typically anything that causes heat in the body, which is why I like to approach rosacea as if it's a heat allergy (though scientifically it's not).
Sandra Spahr, esthetician and trainer, Earthsavers Spa, New Orleans: With rosacea, the red flushing you see is actually inflammation in the skin's capillaries. And this flushing—including the pimples in acneic rosacea—will remain constant unless you can discover and minimize what's triggering it. The most important thing to remember is that these clients' skin is hypersensitive to any number of internal and external factors.
How do you treat a client who is in the midst of a flare-up?
Babini: During a fl are-up, inappropriate skin care can cause major discomfort. Professional treatments should focus on reversing inflammation and reactivity in the very first visit; the fastest way to calm the skin is to apply soothing products without stimulating heat, friction or blood fl ow. Our go-to is the RS2 Mask Treatment from Pevonia—the ingredients focus on rehydrating the skin, relaxing the nerves and calming the inflammatory response, and the results are immediate. Because triggers may range from diet to temperature to stress responses, I find a holistic approach to beneficial to sensitive clients as well.
Berry: When a client is experiencing a flare-up, typically what they care about most is walking out the door with calmer skin. I perform a cooling, healing seaweed facial and avoid all heat, such as steamers or hot towels. I keep massage and exfoliation to a minimum, and I never use scrubs or gommages.
Crossett: Overstimulating a rosacea client may exacerbate the fl are-up. Avoid both heat and cold during treatments, and do not perform extractions. Even water may be uncomfortable; instead, use a sensitive skin or oil-based cleanser that can be applied on its own. I recommend avoiding facial services on more moderate and severe rosacea cases, clients with large pustules, or those who are under a physician's care (unless you're collaborating with their doctor).
What are the best ingredients or products for healing these clients' skin?
Crossett: In general, rosacea clients should limit the amount of skin care they are using—multifunctional formulas are best. I suggest mild exfoliation with digestive enzymes rather than physical scrubs. Clients should avoid drying products, such as alcohol or witch hazel, and stay away from peppermint, eucalyptus, menthol and other ingredients that stimulate the skin. Always choose products that don't contain mineral oils, unnecessary fragrances and harsh parabens—keep it gentle and mild! With these clients I ask myself, 'Could I put this on a baby or a pregnant woman?' If not, I probably wouldn't use it on a rosacea client.
Babini: Our favorite ingredients for calming inflammation and irritation are seaweed, French rose oil, chamomile, green tea and allantoin. We offer a number of gentle homecare products, including Pevonia's RS2 Concentrate, as well as a hydrating cream cleanser and an alcohol-free desensitizing toner. These ensure that clients follow our recommendations as much as possible.
Berry: I'm a big fan of the Repêchage Hydra 4 collection for helping clients with rosacea, and I've gotten great results with the line's Red-Out Facial for hypersensitive skin. The blend of seaweeds is rich in nourishing antioxidants; the treatment is full of inflammation-fighting ingredients, including quercetin, rutin, Mirabilis jalapa extract and antimicrobial micro-silver; and hyaluronic acid increases skin resilience and hydration. When my clients leave less red than when they walked in, I know they'll be back and trust me to treat their skin long term.
Spahr: We offer DermAware's Saving Face Peel, a hybrid professional protocol that helps control acne-rosacea symptoms. For home care, my go-to products are the brand's Pure & Gentle Cleanser, which cleans without overdrying sensitive skin; VITal K Microgel, which minimizes redness caused by broken capillaries; and Modern Mask, which helps skin rebalance.
Are there considerations or precautions to be aware of when treating clients who are on prescription medication for their rosacea?
Berry: I prefer not to treat clients for rosacea if they're using prescription medication or homecare products that I'm unfamiliar with. However, our calming facial is always advisable, as it relaxes and soothes skin—that protocol shouldn't cause issues with medication.
Crossett: In my experience, most dermatologists will work with estheticians and their treatments. Always ask questions and understand what treatment protocol your client and their doctor have chosen—and remember to keep this private information confidential. Certain prescriptions or regimens may alter the way you need to approach a client with rosacea: If they're on antibiotics, their skin may be more sensitive; and some medications for stress, hormonal imbalances or anxiety could be contraindicated for certain treatments.
Spahr: Rosacea medication focuses on calming the skin, and facial treatments aim to do the same—there shouldn't be too many problems with that combination. However, when skin is extremely inflamed, red and angry, I prefer to do only a light, calming facial and refrain from peels.