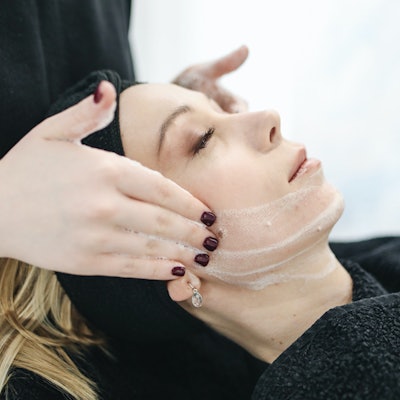 The last few weeks—maybe months, for some of us—have been hard to handle. As estheticians and spa professionals, it's in our nature to be there for our clients when they're stressed, scared, or need something—but with the coronavirus pandemic in full tilt, we've been unable to reach out and do what we do best, provide our clients with top-notch services.
But now, several states and cities have decided to begin reopening, granting us the opportunity to reconnect with our clients and get back to doing what we love—being estheticians.
That being said, our return to the spa is likely going to feel far from normal. Why? Because even though the restrictions are easing up, the actual virus itself has not—it's still out there, it's still contagious, and it can still be extremely dangerous.
That's why it's more important than ever for us—as estheticians, spa owners, and more—to do everything within our control to keep ourselves, our clients, our staff, and everyone around us as safe and healthy as possible.
How? We're glad you asked. Before you go back to your salon, we suggest you read—and abide by—this checklist to ensure you're doing everything you can to keep the virus at bay and stay safe.
Double-Check Your Local & State Regulations
One of the biggest reasons the coronavirus pandemic has been so confusing is because each and every city, county, state, etc., has been handling their regulations in their own, unique ways. Look, we get it—it's hard to keep up! Some cities are allowing spas and salons to open, some aren't, some allow for 25% capacity, some allow for 50%.
It's tough to know what's allowed and what's not.
But unfortunately, it's on you to know what your local regulations are and whether or not you're abiding by them—so, before you even open the doors to your spa, we highly encourage you to double-check with your local and state government to get the full picture on what your regulations and what's not allowed.
Once you do that, you're able to start taking the first few steps toward reopening. But don't stop there. Once you reopen, check back each and every day with your local and state government to stay abreast of the changes—these guidelines are changing daily and evolving constantly, so it's going to be a consistent process of keeping up!
Sanitize Your Life Away—Then Do it Again
Before you even think about opening, you need to give your spa a top-to-bottom clean—we're talking the most thorough sanitizing job you've ever done (and probably ever will do). We're talking about every surface, every piece of equipment, every tool, every chair—anything that exists in your spa needs to be thoroughly disinfected and sanitized.
But once that initial sanitizing and disinfecting is done, you need to prepare yourself to do it a lot more—because it's just getting started. When clients start walking through your spa doors again, you're going to need to ensure you're constantly sanitizing, disinfecting, and cleaning.
Because the coronavirus can be directly transmitted (through coughing, sneezing, talking, etc.) and be spread through fomite transmission (by touching infected surfaces), it's hugely important to slow the spread of the virus by disinfecting and sanitizing as much as possible as often as possible.
Ensure that you're constantly disinfecting—before clients come in, between every client, after they leave—to do your part to stop the spread of the virus before it becomes an issue!
Our advice? Get recertified (and have your staff get recertified as well) in proper sanitizing and disinfecting practices just to ensure you're doing everything by the book. This will probably go over really well with your clients, too.
Implement New Policies & Get Your Staff on Board
Don't Overcrowd—Set Occupancy Limits
It's possible your state or city are already limiting the number of people who are allowed in your spa or salon. If you're cool with that limit and you're confident you can abide by social distancing practices within that limit, go for it. If you're not sure that's right for you, don't be afraid to set an occupancy limit that allows fewer people in your spa at a time. Yes, that means you won't be able to see as many clients, but if it makes you more comfortable, that's precisely what you should do.
Forget About Waiting Rooms
We're sure this part is going to be less than exciting—especially since you've likely worked really hard to create a spa that people don't mind waiting in. But, for the time being, one of the best ways you can encourage social distancing is to nix your waiting room altogether. Set up a system with your clients where you have them call when they arrive—if you're ready for them, have them come in, if you're not, have them await your call outside or in their vehicles. It goes against all of the customer service stuff we know and love, but it's hugely important and we promise your clients will understand.
Equip Your Staff With PPE—Consider Having Your Clients Wear It, Too
You might already be required by your local government to wear PPE when you're working closely with clients—but if you're not, we encourage you to do so. Remember, it's well within your right to not only wear PPE, masks, and other protective gear, it's within you right to ask your staff and your customers to, as well. We know how delicate this can be, but it's important to stick to your principles—so, if this is something you feel strongly about, we encourage you to mandate this in your spa.
Just Say No to Walk-Ins
An appointment-only policy might decrease the amount of traffic you get, but right now, it's pretty important that you're able to control the amount of people in your spa at one time. When you allow walk-ins, you allow unnecessary germs to float in and out of your spa—but when you mandate an appointment-only policy, you're able to control who is in your spa at what time, how many people are in the room, and you're able to stick to a more stringent cleaning schedule, too.
Prepare Yourself with Proper Liability Insurance
There's no time like the present—especially with the recent events that have occurred—to reevaluate your professional liability insurance. Look, if the coronavirus pandemic has taught us anything, it's that sometimes, unprecedented, unlikely, and outlandish things happen out of nowhere—with almost no warning. If you can prepare for something—even the most unlikely occurrences—shouldn't you?
We're not saying that professional liability insurance can protect you from the coronavirus—but we are saying that it can protect you from unlikely, unheard of, and unprecedented occurrences. And, as a spa owner, manager, or esthetician, it's crucial that you're prepared and are protected against these occurrences—your future, your finances, and your career depend on it! Now's the time to make sure you're covered and cared for by an insurance team that knows the unique struggles, risks, and challenges you face on a daily basis.
Returning to the spa might not be easy and it might not feel normal—but that's OK because, at the end of the day, none of this is actually normal. The only thing you can do to truly ensure a comfortable, safe return to a semblance of normalcy in your spa is to protect yourself, your clients, your staff, and everyone around you by being cautious and vigilant. The virus is still out there—and it might be out there for a while—but if we all do our part to take care of our selves and each other, we'll all be OK in the end.
Check out Elite Beauty Society to learn more.