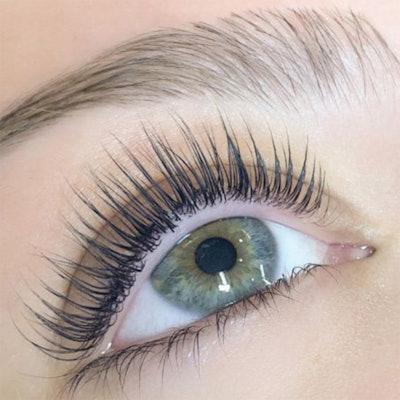 When clients want the ultimate in thick, luscious and flirty batters, then lash extensions are a must. But what about those who want a break from the constant fills or something a bit more natural? That's where lift services come in. "A lash lift is like a perm for the eyelashes," explains Anna Phillips, founder and chief innovation officer at The Lash Lounge. "It's a quick, easy and safe alternative to using an eyelash curler with none of the effort."
While the "lunchtime" service enhances clients' lashes for a bright, eye-opening look, it may not be what they hope for if their natural lashes are short, brittle and lacking luster. Enter lash enhancing serums. These products are used daily—typically in the evening before bed—and after about four to six weeks, lashes appear healthier, longer and fuller. Now, think about a client who has used a lash serum and then books a lift appointment—voilà!—you have a truly stunning effect.
Service Startup
Before you integrate a lash lift service into your menu, you need to know what it entails, and it's relatively simple. First, the client's lashes are secured to a silicone rod with adhesive. Then, two products are used: "First, a perming solution to break the disulfide bonds in the hair to soften and sculpt the lashes," explains Phillips. "Then the neutralizer is used to reinforce the hair and set the curl. And that's it!" Aside from waiting 24 hours after the appointment to wet lashes, there's no after care or maintenance. The service lasts up to eight weeks, and Phillips encourages clients to come back every six to eight weeks for their next lift.
Another similar service that you can offer is a "lash relax." "Clients who have very curly lashes might find that lash lifts can actually over-curl the lashes," says Los Angeles-based celebrity and permanent makeup artist Michal Cohen. "For those clients, I like to offer a lash relax where I use the same formula to straighten curled lashes to give a more natural look."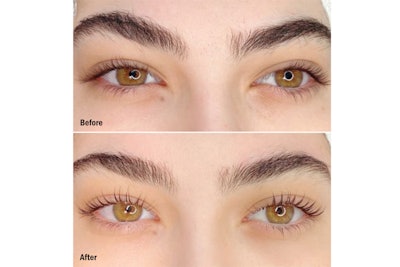 Making Connections
Clients come to you not only for your skill, but also because of your knowledge, and nothing reinforces this relationship like retail. Particularly when it comes to the pairing of lash lifts and eyelash serums, education is key to providing a positive service/retail experience. "When clients come in for treatments, ask about their goals for long-term results and recommend products that fit their needs," advises Michelle Huber, director of sales and education for Beautiful Easy/LiLash. "A lash lift and LiLash are such amazing partners—the lift helps define the curl of the lash, while our purified eyelash serum helps define the appearance of length and fullness," she enthuses.
For clients who are coming off of lash extensions, this is the perfect time to upsell. "Lash technicians can recommend that their clients use a serum like RapidLash four to six weeks prior to a lash lift service," suggests Nicole Pigott, brand manager for RapidLash. "This way, the lash technician will have a durable lash line to work with for the treatment." For new clients who are looking for a less costly service that's low- maintenance, introduce them to the benefits of eyelash serums in conjunction with the lift to improve their overall results. "Ultimately, education is key when it comes to genuine connections of products and treatments," says Huber.
Retail Favorites
If you've yet to stock your retail with lash serums, check out a few of these top sellers.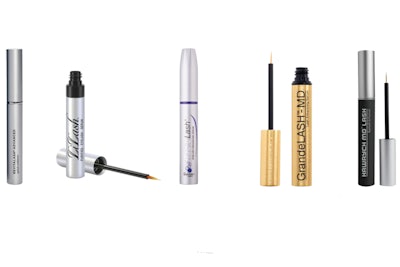 RevitaLash Advanced Eyelash Conditioner – Bonus: The original eyelash-conditioning formula created by founder Michael Brinkenhoff, MD, to help make his wife feel beautiful during her fight against breast cancer.
LiLash Purified Eyelash Serum – Bonus: Physician- formulated, ophthalmologist- approved, never tested on animals and safe for sensitive eyes and contact lens-wearers.
RapidLash Eyelash Enhancing Serum – Bonus: Formulated with proprietary Hexatein 1 Complex, a unique blend of lash-enhancing, conditioning and fortifying ingredients specifically designed to target eyelashes from every angle.
Grande Cosmetics GrandeLASH-MD – Bonus: The one-swipe wonder infused with a nourishing blend of vitamins, peptides and amino acids.
Hawrych MD Lash Hawrych MD Eyelash Enhancer – Bonus: Embodies everything that founder Andrew Hawrych, MD, is passionate about: great results, proven ingredients and the latest technology.
– by Stephanie Lavery