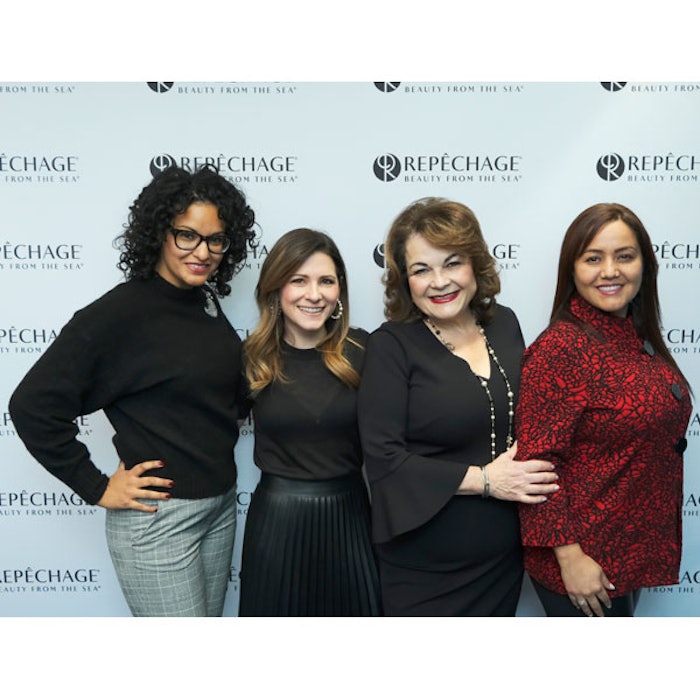 Repêchage
hosted its annual business networking Power Lunch for spa and salon professionals on Monday December 2, 2019, followed by a hands-on massage workshop led by company CEO and founder Lydia Sarfati. This year's event was moderated by Kristina Rodulfo, beauty birector of
Women's Health Magazine
, and included a panel of leading female entrepreneurs in skin care, spa and wellness:
Sarfati kicked off the event with her presentation "How to Boost Your Retail Business," which offered strategies for maintaining a successful retail business as part of a spa's company culture and key profit driver. Key takeaways included how to assemble an educated sales team, how to properly merchandise, how to implement promotions, and best practices for selling to clients.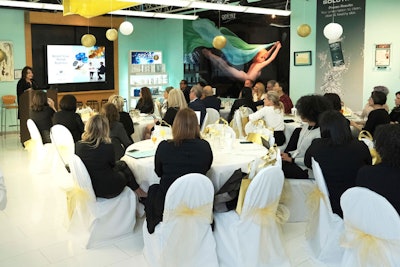 Following lunch and a champagne toast, Rodulfo led an interactive panel with Catoe, Carr and Dominguez, who all shared their personal journeys to professional success and provided valuable advice to attendees.
Carr explained how being involved in every aspect of the business created success for herself and her staff: "When employees are doing a massage, I'm there to help if need be. If it's time for a facial, I'm there to make sure they are following steps and proper protocols. If someone is booking a facial, I am up front, knowing what to recommend as well as selling memberships."
Catoe offered insight into the importance of self-care for business owners and team members: "We want to treat our guests the best possible ways we can, but we also need to make sure we're taking care of ourselves. I always say you can't take care of anyone if you're not taking care of yourself. I make sure my team understands this as well."
Dominguez discussed transitioning from working on your own to having a team that helps run your business: "Have compassion for your employees, have open lines of communication and never take things personally."
Sarfati then hosted a one-day, hands-on workshop on facial massage at the Lydia Sarfati Postgraduate Skin Care Academy at Repêchage corporate headquarters in Secaucus, New Jersey.
The brand invites spa and salon spa professionals to join it for upcoming educational classes, webinars and events moving into 2020, including the Repêchage 40th Anniversary VIP Celebration and Master Class in July. To see the full schedule, visit edu.repechage.com
About Repêchage: Since 1980, Repêchage has created a full range of seaweed-based skincare products featured at top spas and salons globally. Forerunners in sea plant technologies and pioneers in seaweed treatments and cosmetics in the U.S., Repêchage researchers seek out specific seaweeds beneficial for a range of skin care concerns.
Skincare company