Therefore, it's crucial to select pointed interview questions that can quickly and effectively draw out a candidate's personality, manifest their critical thinking skills and elicit detailed responses. Leslie Lyon, president of Spas2b Inc—a spa management education company— explains that a candidate needs to be able to "take the meat out of a complex issue… to show how they would actually perform in a work-related scenario. In that sense, the interview is a test." During your next hiring opportunity, try posing these questions to your applicant for a more engaging and revealing conversation.
RELATED: Business Advice from Complexions Spa for Beauty and Wellness Owner Denise Dubois
1) Why did you leave, or why are you looking to leave, your latest job?
This digs into the reasons why a potential employee is unhappy at a current position, or explains why they're unemployed. It could simply be that they recently had a baby and are looking to rejoin the workforce, or it may point to a more complicated issue, such as not getting along with other staff . If the answer is the latter, you may want to scrutinize the hire more closely.
2) Tell me why you specifically chose to apply here.
"I want to make a connection and know 'Why me?' Then I tell them about our spa and its needs, and if they're on board, we can go from there. I don't want to waste anyone's time," explains Eva Kerschbaumer, who oversees 43 employees as owner of ESSpa Kozmetika Organic Skincare in Pittsburgh.
3) What steps do you take to increase your client bookings and retentions?
"Although it's still very important to understand an applicant's resume, at some point the interview has to change from 'persuasive' to 'proof,'" offers Lyon. "An interviewer should not be persuaded that an applicant can deliver based on their words alone—they need to be convinced with proof of deliverables and actual tangible outcomes."
RELATED: 10 Questions to Ask a Guest Prior to Their Spa Service
4) Describe an instance when you went above and beyond to assist a spa guest.
"This allows the candidate to explain how they dealt with an opportunity or challenge to enhance the guest experience and increase guest satisfaction," shares Robert Seibel, director of spa and retail at Two Bunch Palms Resort and Spa in Desert Hot Springs, California.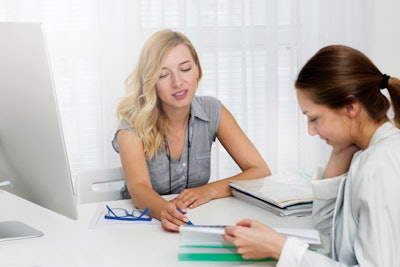 5) Here's the problem: ____________. What would be your strategy for resolving this situation?
Lyon suggests offering realistic, spa-relevant scenarios, such as three key employees quitting on the same day. She recommends presenting a case study for management applicants, and asking the client to follow up with a report at the next interview. "The interviewer should use their past experiences to test the candidate. Are they providing a measurable, analytical response, or answering with intuitive, gut feelings that are difficult to quantify?," she says.
6) What are you hoping to learn here?
"I'm not looking to hire a candidate who will get bored on the job within days," Kerschbaumer points out. "I need someone who wants to really learn and grow with me, not someone who trains and then leaves to open their own business after three months."
7) Do you have any questions for me?
Don't neglect to ask this seemingly throwaway question, because the response can demonstrate curiosity and genuine interest in the position—or lack thereof. Kerschbaumer admits that "most people ask about pay. Not many candidates have the courage to ask me something else." However, think hard before hiring candidates who ask only about renumeration or vacation: If these are the most important things to them, perhaps they're not a fit for your spa.
–by Suchi Rudra
Hiring the right person for the job can be one of the most critical decisions a spa owner will make.