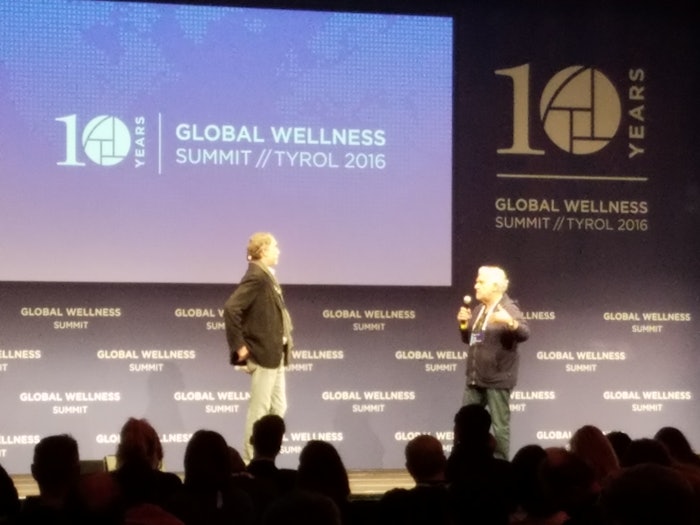 The wet weather enabled us to stay inside for deep and meaningful  discussions—until our afternoon field trip, that is!
Following a successful first Summit day, on Day Two we awoke to rain. The morning's keynote offerings included a presentation by futurist Edie Weiner, followed by a panel moderated by Leisure Media's Liz Terry, entitled Wellness Architecture and Design; Insights and Inspiration. Panelists discussed the modern-day phenomenon of biophilic design; whereas green design just takes into account the building itself, biophilic design goes further, by striving to connect humans and nature with the building.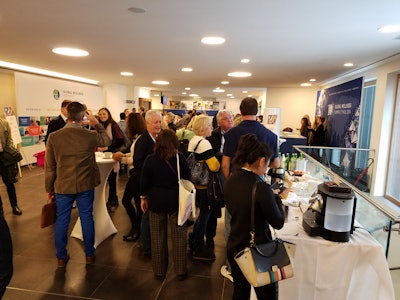 Ann Marie Aguilar of Arup Associates talked about the fact that today's architects and designers are increasingly focused on creating safer buildings with as little indoor pollution as possible. Globally, indoor pollution and poor air quality are estimated to cause 14 times more deaths than their outdoor equivalents. Aguilar referenced the GRESB building rating tool, which measures sustainability as well as the effect on the people inside the building. She advised us to be aware of toxic building materials to be avoided, and to make sure that the wood we use is formaldehyde-free, and glues and adhesives free of off-gasses. She also shared a list of plants that absorb potentially dangerous gases, such as spider plants and bamboo. There are already apps that measure air quality, so there will be no secrets in this regard before long. The second presenter, also from Arup, described how design will increasingly incorporate acoustic qualities, and that some designers are using virtual reality with focus groups to test reactions before they actually begin construction.
Lars Krückeberg, an architect from GRAFT, discussed his work on a project in a German ICU unit in which they replaced the lighting with lights over the beds that could track patients' stress, with a view to creating environments that help to heal faster. Kruckeberg mentioned the company Cradle to Cradle, created by a chemist and an architect, which is designing buildings made entirely from clay and wood. Instead of "dying," they go back to the earth when their useful life is over. GRAFT is currently working with resort chain Six Senses on the spa company's new projects. Panelist Neil Jacobs, Six Senses' CEO, shared insights on the design process at its Douro Valley, Portugal location. They had taken over a previously existing property with "bad energy," and brought in Alberto Azzura, a Brazilian "Sacred Geometrist," to guide the design overhaul. In doing so, shared Jacobs, the one-year-old resort has already doubled its projected bottom line. Six Senses has also gone to the lengths of designing and building its own beds and bed linens to draw heat away from the body and promote good sleep. It also owns a lighting company that creates lamps to wake up users and help them drift off at bedtime.
Mid-morning featured short keynotes by notable players including Nils Behrens of med-spa chain Lanserhof; Dr. Harry Konig, head of medical care of Brenners Park-Hotel & Spa in Baden-Baden; Tom Bauer of VAMED Vitality World, who discussed Austrian hot springs; and development and investment guru Omer Isvan. The delegation then heard from visionary Dietmar Mueller-Elmau, CEO and owner of Schloss Elmau, a luxury spa and "cultural hideaway." Schloss Elmau has 150 rooms and five spas, all wrapped around a concert hall. Mueller-Elmau says he is obsessed with self-optimization and the concept of real "freedom." In his opinion, a luxury resort in the middle of nowhere is not a real luxury if there is nothing for the guests to do there, and that freedom requires alternatives, so guests can choose what they really want. Schloss Elmau resists the concept of "corporate branding, and gave the example of offering guests bathrobes in multiple colors, enabling them to choose their own. The property boasts a unique concept whereby artists and musicians can "play for stay"—in other words, perform concerts in the hall, or show their artwork, in lieu of payment. Last year 7,000 were hosted in this way!
Next, Austrian economist Barbara Kolm gave an overview of the current economic climate in the E.U., whose economic recovery is lagging behind that of the U.S. Only six EU countries—Poland, Ireland, Sweden, Romania, Lithuania and Latvia—will show growth in 2016/17, and even that will be limited to 3%.
The morning's final keynote was local Olympic and Austrian ski champion Stephan Eberharter. Eberharter's most famous race occurred on the notoriously difficult Streif course on Hahnenkamm, which concludes in the village of Kitzbühel, less than 100 meters from the congress center. Eberharter showed a video of that run, in which he descended the mountain's extremely steep pitches at speeds exceeding 60 mph. He addressed the question many of us had: "Why would anyone do this?" by discussing how we can use motivation and passion to set goals and live our lives fully.
Later, the delegation walked one block up the hill and boarded gondolas for a ride up to the top of Hahnenkamm, where we enjoyed a traditional Tyrolean lunch and walked the short distance up to the start house for the race, from which the mountain falls away, almost vertically. Available activities including hiking, yoga, mountain biking, Segway tours and paragliding, although I must admit that the rainy weather definitely put a dampener on our enthusiasm to partake!—Lisa Starr