Make Pinterest your day spa's prettiest sounding board—and profile booster.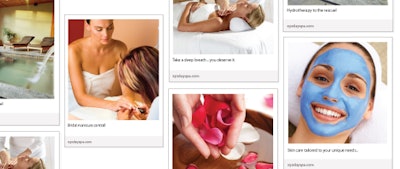 It seems that almost every week, there's a new mobile app, social media outlet or tech toy about which everyone is raving. For business owners, identifying those that will best serve their operation can be tricky. Pinterest, a social media platform that reared its pretty little head in March 2010, has established itself as one of the more worthwhile endeavors. It's a popular place for people to post images to their individually themed "pinboards"—mainly beautiful photos, but also video, ads, logos, articles, etc.—offering followers snapshots of their lives, hobbies and interests. The free site has also proven to be a hot marketing tool for businesses seeking to raise their brand awareness via striking visuals, while telling a story and facilitating further rapport with clientele.
So if you're questioning whether or not your business is Pinterest-appropriate, the answer is yes. Even companies that would not classify as visually stimulating are using the site. For day spas, it's a slam dunk, as images relating to wellness and relaxation are some of the most frequently pinned—i.e., most popular—on Pinterest. "It makes total sense for a spa to have a Pinterest page," says Ruby Gu, creative director at Oasis Day Spa in New York City and Westchester County, New York. "It helps us promote our services, products and events, and better deliver our overall brand message." Plus, Pinterest's viral nature—and the fact that it doesn't limit your number of followers—further exposes your business to new and existing clients, Gu explains. "I think it keeps a dialogue open between us and our clients; it helps to see what they choose to re-pin from our pinboards."
While Pinterest is only one piece of the social media puzzle, and is still too green to yield widespread hikes in sales or client intake, most spa owners say it has made them more visible, and expect it to help boost their bottom line. "Since adapting Pinterest for our social media campaigns we have seen an increase in online and phone sales for new clients and guests," reports Patricia Owen, president of Faces Day Spa in Hilton Head Island, South Carolina.
To help you sharpen your pinning prowess, DAYSPA compiled some expert-approved tips and tools. Welcome to "Pinterest 101"!
The Pinterest Push
Simply put, Pinterest is free publicity. Pinboards and re-pinning (see Pin the Meaning to the Jargon, page 96) functions facilitate virtual word-of-mouth marketing for your business.
It's also a great way to boost your spa's SEO (search engine optimization). "The more content your spa puts out into the web, the more hits it is likely to get in a web search," reminds Donna Schroder, owner of Skin Care by Donna: An Organic Skin Spa in Brooksville, Florida. "For the small amount of time it takes to maintain a Pinterest page, the amount of exposure it provides, and the cost, you'd be crazy not to take advantage."
Vendors may appreciate your pinning action, too. "Our vendors love following our 'Products' pinboard since it helps showcase their wares," says Gu. "And the fact that Pinterest is able to display a price for each of those items helps clients a lot as well."
What is Pin-Worthy?
Remember all that money you spent on fancy spa photography? Well, the fruits of those labors can be put to even better use via Pinterest. Images of your spa's décor, sign or logo; services and facilities; model shots; and key treatment ingredients provide ideal fodder for your Pinterest pinboards. You can simply organize these images into creative and colorful, themed pinboard categories.
"I find it's better to treat your Pinterest boards as editorial sections of a magazine, rather than as a catalog," says Gu. "Our board categories include: 'Our Services,' 'Our Products,' 'Oasis Around Town' [events], and a few inspirational boards titled 'We <3 NY,' 'Wedding Bells' and 'Simply Adore,' where we re-pin great items and images that we see elsewhere on Pinterest." The team at Faces also has pinboard management down to a science. Here, Owen lists her four favorite boards, and reveals how she uses each: • Products We Love: "We showcase some of our favorite products, and link back to our website or online store. We set up our own photo shoots for our Pinterest page and try to show off at least one or two of our spa's custom-branded items, to increase our online exposure."
• Tricks of the Trade: "We visually highlight some of our new services and often link to articles and videos, too. We try to pin other experts in the business, and always use hashtags to advise following pinners on how to find us."
• Favorites from our Fans: "This includes interesting pins from our followers in a variety of topics, from home décor and inspirational messages, to tips on entertaining."
• Service Specials: "This allows us to post daily service slot openings—which we also broadcast via Twitter."
Like all social media outlets, Pinterest boards should also deliver education and inspiration. "We want to keep our followers informed, so we pin ingredients, new products, treatments, trends, tips and tricks, and list the benefits of the services and ingredients we use," says Schroder, who cross-promotes her spa's Pinterest page through its blog to gain more blog followers. "Since we are an organic spa, we also have a pinboard dedicated to at-home organic skincare treatments. There we provide recipes and techniques as well as informative articles on the benefits of using organic over synthetic products."
Pinning shouldn't simply be self-serving, however. Take advantage of the free service by following other accounts and re-pinning to your heart's desire, Gu says. "Follow boards from your vendors, promo partners and even celebrities, as they are likely to follow right back," she explains. "Your boards demonstrate your aesthetic and point of view, so use them to show the world who you are."
Perfecting Your Pinterest Performance
To successfully market your business via Pinterest, spa owners must go beyond simply creating pinboards and posting beautiful images. Little details that offer key information about your spa—your website, physical and email addresses and phone number, for instance—are just as vital. Here are some pointers:
• Watermark your images. Include your URL at the bottom, so that when the image is re-pinned, audiences know that it's originally from your spa.
• Embrace hashtags. "We often use hashtags such as '#hiltonhead' or '#hhi,' and keywords, to help increase our exposure," says Owen. Get creative and incorporate hashtags into online promotions, too. Gu says hashtags are particularly handy when promoting a spa contest or giveaway. "We ask our participating guests to make particular pins, and include a specific hashtag—this serves the dual purpose of promoting Oasis while telling us who entered the giveaway," she explains. "Last month we hosted a scavenger hunt in honor of Breast Cancer Awareness month. We asked guests to find particular types of pink-powered, wellness-related posts, re-pin, and add the hashtag, '#oasisinpink.' A random winner was then chosen from participants to receive a fabulous, spa-related prize."
• Use other social media platforms to cross-promote your Pinterest page. "Our Facebook followers love our cross-posts on Pinterest, and regularly head over to see what new pins we have," Gu says. Faces links its Pinterest account to Twitter, so new pins are automatically tweeted, explains Owen.
• Keep your page fresh and up to date. Pinterest's ease of use means spas can update it daily; however, weekly is typically the norm. You can readily feature an ever-changing array of pinboards that are consistently relevant, and others that are topical—related to specific seasons, holidays, specials or promotions, etc. The latter are easy to take down when the promotion or season has passed. "The pins and descriptions can be updated, and it's usually quicker and easier than updating a website," says Schroder.
Now that you've been given a crash course in Pinterest, don't hesitate to get started. Striking while the iron is hot is always best when it comes to fresh social media strategies and technology. As Owen reminds, "The world of marketing is changing rapidly, so small business owners need to stay on top of the latest trends."
Pin the Meaning to the Jargon

? Pin: An image added to Pinterest from a website using the "Pin It" function. Users can also upload images from their own computers. Each pin added using the "Pin It" button links back to the site from which it originally came.

? Pinboard: A collection of images users pin to view later and share with others. A board can be created on any topic and there is no limit to the number of pins you can add to a pinboard.

? Follower: Someone who has subscribed to a pinboard. Followers can view a board's pins in real-time.

? Repin: To add an image found while browsing Pinterest to one's own board. When an image is repinned, the user who originally pinned it will also get credit. A repin maintains the source-link of the image no matter how many times it's repinned.

? Liking: Not the same as repinning, liking a pin adds the image to a user's "Likes" section in their profile (which their boards' followers will be able to view); the image does not get added to one of their boards.

? Hashtags: Words or phrases prefixed with the symbol "#." By attaching the symbol to a keyword, it becomes searchable via social media. When pinning on Pinterest, "hashtag" the keywords that best describe each picture pinned, and make sure that the tagged words are broad and canvass topics that connect to the largest audience possible.
Carrie Borzillo is a Los Angeles-based freelance journalist and author.