Canadian spa culture emphasizes authentic experiences provided in wide-open environments.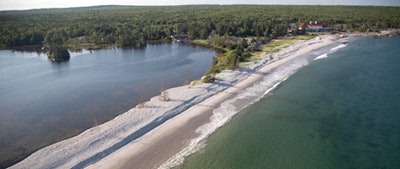 This month, our focus shifts north as we examine spa culture in Canada. Although Canada and the U.S. are often considered in the same breath, there are actually many differences between the two countries. Besides the obvious—Canada's colder climate, its national obsession with ice hockey and its two official languages (English and French)—there are lifestyle differences as well. Thanks to its excellent educational standards and family reunification policies, Canada has one of the highest per-capita immigration rates in the world, and numerous ethnic groups reside throughout the country, especially in the diverse cities of Toronto and Vancouver.
Canada ranks second in the world in terms of land mass (at 3.9 million square miles), but its population of approximately 35 million ranks 38th, making for lots of open space. The Great Northwest comprises 10 provinces and three territories, yet around 80% of its population lives within 150 km (93 miles) of the U.S.
According to Dagmar White, communications & event coordinator of the Spa Industry Association of Canada (SIAC), Canada is home to roughly 3,000 spa facilities. "Canadian spa industry numbers and trends typically run parallel to those of the U.S., but at a tenth of the scale," reports White. Day spas are the most common type of spa, but Canada offers the full gamut of spa experiences. Using ISPA designations, a PKF study from 2007 categorizes most Canadian spa businesses as day spas (74%) or resort/hotel spas (19%). Medical spas, destination spas, club spas and mineral spring spas constitute the remaining 7%.
Cultural Differences
Spa culture in Canada is strongly oriented toward relaxation and stress relief, probably due to two factors: 1) massage therapy services are partially covered by most Canadian health insurance plans, provided that the services are administered by registered massage therapists, and 2) ample space enables spas to provide larger amenity areas.
"Our spa has lots of room for guests to relax and visit not just for a treatment, but for an entire day to get the full experience," notes Jill Carlen, spa director at the 13,000-square-foot Spa My Blend by Clarins at the Ritz-Carlton Toronto, who has also worked in the U.S. "Many women come in pairs and make a day of it, ordering lunch and champagne in addition to booking treatments. Even in Canadian cosmopolitan cities, the spa scene is very relaxed and tranquil, providing guests time and space to really unwind."
Allison Hegedus is president of Vida Spas, with five locations in the Vancouver region, and she sees definite trends among Canadian spa-goers. "Cheap and cheerful isn't necessarily what guests look for today," Hegedus says. "They're now using spas as a way to decompress from the stresses of their lives, with more focus on full 60-, 90- and 120-minute treatments. Guests want quality and results and are willing to pay for it."
Spa consultant Vivienne O'Keeffe of Spa Profits, a British Columbia-based spa consulting firm, concurs. "Savvy consumers are demanding authentic experiences," she says, adding, "This has transformed the offerings by serious spa operators."
The Canadian Tourism Commission indicates that tourism is a key component of the spa industry, as tourists represent almost 30% of total spa visits and 25% of spa revenues in Canada. As in the U.S., many new resorts in Canada provide meditation, yoga and spa facilities to attract more guests.
Although Canada's largest metropolitan areas of Toronto, Vancouver and Montreal offer healthy spa scenes with a mix of day spas and hotel spas, viable spa businesses can be found throughout the Canadian provinces. Just a few examples: the town of Yellowknife in the Northwest Territories, 250 miles from the Arctic Circle; across the lower part of the country from Vancouver in the west through Saskatchewan, Alberta; and in the Maritime provinces of New Brunswick, Nova Scotia and Prince Edward Island on the east (Atlantic) coast. Many of these spas offer hair services, which makes sense given their remote locales and sparse populations.
Standout resort spas in Canada include Nova Scotia's Ocean Spa at White Point, a lodge that opened in 1928 and now includes a Chopra Ayurvedic Center; Brentwood Bay Resort & Spa on Vancouver Island, British Columbia, which also plays up its waterfront location; and the hot springs-inspired Willow Stream Spa at the Fairmont Banff Springs, Alberta.
"As is likely the case elsewhere in North America, consumers here are beginning to shift their view of 'spa' from a luxurious indulgence for the rich and famous to an important, even essential, component of personal health and wellness for everyone," observes White. "In recent years, top employers have also started to recognize the benefits of including spa and wellness treatments in addressing stress and improving the general wellness of their workforces, with the goals of reducing absenteeism and increasing productivity."
"At Vida Spa, we found a few years ago that our guests were not only seeking traditional therapies like classic massage and European facials but were beginning to shift their focus to alternative therapies," says Hegedus. "We've seen a big increase in clients seeking our signature ayurvedic therapies. There's a growing demand for acupressure, facial rejuvenation acupuncture and cupping therapy. We're also finding that clients are more interested in infrared saunas versus traditional steam."
Marketing modes
Just as in the U.S., Canadian spa owners and guests are moving away from the "group discount deal" mentality. White, who performs her marketing role for both the SIAC and Leading Spas of Canada, shares that spas in Canada have experienced many of the same detrimental effects on their businesses as a result of such deep discounts as their southern neighbors.
"Although the deep discount coupon offers helped drive first-time spa goers to experience services, the popularity of deep discounting as a marketing option is waning, as many businesses have not reaped the successes anticipated and may have even suffered a downturn as a result," White concludes.
Fortunately, spas are increasingly using their own social media channels to share offers. "At Vida, we're increasing our Twitter, Facebook and Pinterest outputs as ways to promote our own deals during slow times," says Hegedus. Ritz-Carlton's Carlen believes that guests are "less concerned with the deal, and more concerned with finding good value and really enjoying their time at the spa."
Support for the spa industry on a national level is also helping to move businesses forward. Leading Spas of Canada functions as a spa liaison on the consumer side, with a well-developed website (leadingspasofcanada.com), and the SIAC provides a professional resource for spas, as well as a quality assurance program.
"The program provides a method for verifying that the quality and integrity of the services and practices offered by spas demonstrates that they merit the confidence of clients, staff, government agencies and the general public," explains White. Both Canadian spa professionals and consumers are lucky to have these associations framing the spa industry.
Staffing Challenges
The education requirements for Canadian therapists are often more stringent than those in the U.S. Not every province requires licensing or certification, but for those that do, the curriculum lasts between six months and two years of schooling for esthetics and two to three years for massage therapy. (Because of the way training programs are set up, estheticians in Canada also can perform nails and body treatments.)
According to Carlen, therapists in Canada take their jobs very seriously and have a strong work ethic. "In Ontario, it's important to ensure that you have plenty of RMTs on your staff, although they tend to have more experience in clinical environments than in spas, so training is often required from the retail perspective," she says.
At Vida, staff attitude is also a major emphasis. "As in any industry, we look to hire staff who have team spirit, work ethic, talent and passion," says Hegedus. "Given our strong operating principles, competitive compensation and beautiful surroundings, we manage to attract and maintain a very talented and positive team."
Growing forward
The spa industry in Canada continues to evolve based on the needs and wants of the consumer. The number of spas available is growing across all segments, from destination spas to day spas. According to White, Leading Spas is seeing an increase in specialty, or niche spas, home-based spa businesses and Nordic-types spas and baths.
"The less clinical and more 'spa-like' atmosphere has grown considerably here," notes Carlen. "In Toronto we have seen an increase in both luxury spas and water-therapy based facilities. Men's grooming is also widely accepted here. Canadians embrace spas, and are willing to pay to receive more of an overall experience."
"Canada is proud to be the home of world-class spas that offer an enormous number and variety of services and treatments," sums up White. "Spas in Canada are a reflection of various cultural backgrounds, plus a wide variety of stunning geography and natural resources that provide the inspiration and basis for many of the options available to spa-goers."—Lisa Starr