From calming colors to glowing skin, this season's trends are all pointing to one place — the spa.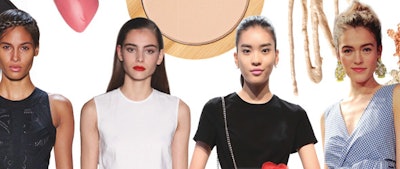 "Across all the Spring 2016 runways, I've noticed one thing: it's all about the skin," states Natalie Soto-Carlisle, global educator for Jane Iredale — The Skin Care Makeup. "And for glowing complexions," adds independent makeup artist Jamie Dorman, "skin prep is absolutely essential."
We're thrilled to predict that the trend toward revealing healthful, natural complexions means great things for the experts in all areas of your spa. Women will call on your estheticians to help them de-gunk and shed their winter skin, they'll reach out to your makeup artists to show them how to execute the season's trends, and they'll want to chat with all of your skincare experts to develop a beauty regimen that will leave their faces healthy all season long.
Radiant skin isn't the only spa-centric trend that has been pulled from NYFW runways, however. "The top 10 fashion colors for Spring 2016 really exude a feeling of calmness," says Leatrice Eiseman, executive director of the Pantone Color Institute. The hues she's referring to: Rose Quartz, Peach Echo and Limpet Shell, all straight out of a tropical resort; Snorkel Blue, Lilac Gray and Serenity, mid-tones that inspire cool transcendence; and Iced Coffee, a nod to our favorite creamy concoction.
There's no doubt these lighter, pastel tones lend themselves to a Zen, spa-like quality — and a hint of shimmer. "Yes, metallics are here to stay — our eye can't resist that iridescent quality," explains Eiseman.
And speaking of eye-catching, "there are also the brilliant and bright runway colors devised to grab attention," adds Eiseman, referring to the season's Buttercup, Green Flash and Fiesta hues. "But overall," she notes, "these 10 colors have a more relaxed, calming attitude. Honestly, they're the perfect shades for the spa world!"
Continue reading this story in our February digital edition!