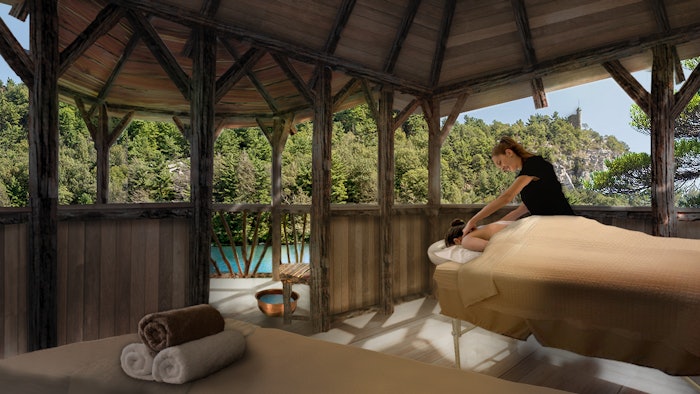 Courtesy of Mohonk Mountain House
Mohonk Moutain House has unveiled a full refresh of the award-winning Spa at Mohonk Mountain House. Part of this includes the addition of the Lakeview Summerhouse, the property's first outdoor spa treatment room, which overlooks Lake Mohonk and the surrounding cliffs.  
The Lakeview Summerhouse is literally placed in the middle of nature, surrounding guests with the sights and sounds of the ancient forest. It is crafted in the same rustic tradition as the other 120 historic summerhouses on the property. 
The Lakeview Summerhouse will serve as the site of signature wellness offerings, such as:
Private mindful sessions with Nina Smiley, PhD,  director of mindfulness programming, who will teach guests simple techniques that can be called upon at any time to support mindfulness and well-being.
Yoga and meditation classes  overlooking Lake Mohonk
Sound baths on the moss-covered roof terrace at sunset, allowing guests to deepen their mindfulness practice as they embrace the simplicity of nature around them
The spa has also created a new series of treatments to celebrate the spa refresh and new treatment area, including:
Lakeview Summerhouse Massage, which includes a foot and leg ritual, dry brushing, frankincense and peppermint foot and leg massage, and deep tissue or Swedish massage using aromatic oils inspired by forest biomes.
Luxe Lift Facial combines relaxing and firming face massage techniques, plus a sculpting massage and eye mask to promote younger-looking skin. 
The Perfect Formula Facial: A Re-Boot Treatment teaches guests how to re-set their skin care regimen. After an extended consultation and sculpting face massage, they receive a customized facial based on their unique needs.
Contrast Hydrotherapy Massage is meant to mimic the natural healing effects of Glacial Lakes and Thermal Springs. Guests alternate from warm steam to refreshing cool showers, followed by an immunity-boosting Swedish massage using essential oils of rosemary, black pepper and eucalyptus to warm and relieve achy muscles.
"We are thrilled to welcome guests to the Spa at Mohonk Mountain House and introduce them to the Lakeview Summerhouse, where we've created experiences that are deeply connected to Mohonk's natural surroundings," said Barbara Stirewalt, vice president and general manager of Mohonk Mountain House. "Our spa has always been an exceptional space to nurture guests' well-being, and I'm delighted to build on that experience through this refresh and the introduction of new spa therapies and mindfulness offerings."