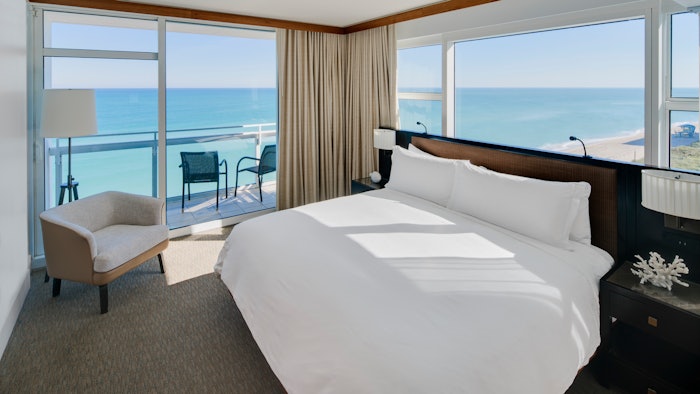 Courtesy of Carillon Miami Wellness Resort
Carillon Miami Wellness Resort is now working with ActivePure Technology and Applied Silver to incorporate their sanitation technologies and further protect against COVID-19 and other harmful microbes at the property.
ActivePure Technology is an air purification system that kills 99.9% of SARS-COV-2 virus in air and on surfaces, along with other airborne viruses, bacteria and mold. ActivePure will be featured in Carillon Miami's apartment accommodations and public areas of the resort, ensuring a clean and safe airflow throughout the property.
Applied Silver SilvaClean, an antimicrobial fabric-based protectant, eliminates 99.9% of germs including disease-causing bacteria, mold, mildew and odors. Carillon Miami receives the SilvaClean service through its linen service partner, disinfecting its sheets, blankets, towels, robes, linens, curtains, pillowcases and more. 
"Sanitization and safety is top-of-mind amongst consumers, and this will continue for years to come. Our team found it important to introduce long-term solutions that can seamlessly integrate into the resort's operations processes that protect our guests and team members from COVID-19 and other viruses," said Patrick Fernandes, executive managing director of Carillon Miami Wellness Resort. "By collaborating with ActivePure Technology and Applied Silver we are able to ensure our air quality, hard surfaces and linens are clean and safe. Our goal through these partnerships is to serve as a connecter for the hospitality industry and help in introducing these technologies at other destinations and businesses as well."