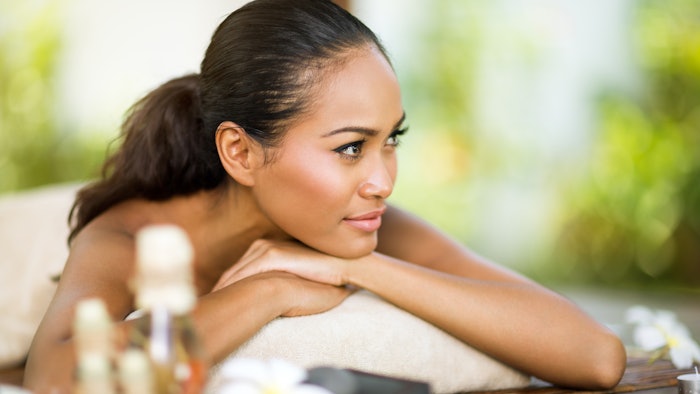 With 2021 officially (and finally!) underway, a great deal of destinations are making their grand debuts, with plenty of bespoke face and body treatments too. Here are seven stunning spas opening this year.
1. Spa Talisa at Four Seasons Resort and Residences, Napa Valley
Spa Talisa, designed as a tranquil oasis in Calistoga, California, is centered on holistic healing for the mind and body. It features rejuvenating offerings that take guests on a wellness journey through an outdoor relaxation garden, luxurious treatments using indigenous ingredients and premium products, a nail bar, curated retail and more. The menu of treatments and services at Spa Talisa includes product collections by Napa-based boutique and skin care brand, LIV + Grace Skincare, as well as molecular skin care system, Seed to Skin, founded in Tuscany, Italy.
Spa Talisa includes treatment offerings like The Brave Spirit Body Ritual, which exercises the mind and body with a grounding foot soak, aura cleanse, marine algae and salt scrub, and a detoxifying thermal mud balm. In addition, the Vineyard Scrub uses grape seeds to heal the skin, as well as olive oil from the property's century-old olive trees to neutralize and eliminate harmful free radicals.
2. The Wave Garden Spa
The Wave Garden Spa has set its opening date for March 26, 2021, the same day as its parent hotel, the Hilton Garden Inn Snowdonia in the UK. Inside, there's a vitality waterfall pool, a steam room and an oversized Himalayan salt sauna, which looks out across the waves of its surf lagoon to the mountains and forests.
Outside is fitted with a hot whirlpool and relaxation pods, fire pits, a yoga studio and a traditional wooden barrel sauna. The spa has five treatment rooms, as well as a double hammam room for steam-based cleansing and purifying rituals. It will offer a range of marine-based Thalgo products, as well as a bespoke product line made in Wales using locally sourced natural ingredients.
3. Trellis Spa at the Houstonian Hotel and Spa
The Trellis Spa at the Houstonian Hotel and Spa in Houston, Texas, underwent a multi-million-dollar renovation, set to make it the largest spa in the state at 26,500 square feet. Set to reopen in early February, the spa's 9,500-square-foot expansion features an outdoor contrast bathing and soaking experience, private cabanas, touchless therapies, a treetop dining room and all new interiors.
The spa's new 6,500-square-foot Soaking Pools and Garden is said to support circulation, cardiova­scular strength, stress relief and immunity. It will also be home to a butterfly collection: a floating art installation commissioned by featured artist, Casey Parlette. Each butterfly is made by hand and will be a vibrant focal point for guests enjoying the outdoor space. Another addition includes a Spa Two-gether suite that allows two people to spa at once with new dual services that can be enjoyed with a friend, family member or spouse.
4. Four Seasons Hotel Bangkok at Chao Phraya
Although the Four Seasons Hotel Bangkok opened in early December, its wellness center will be opening later this year. The fourth location in the Four Seasons Thailand Collection, it includes a 299-room hotel, destination restaurants and lounges, event spaces and an urban wellness center (coming soon). The complex will include 366 Four Seasons Private Residences that will open in 2021 as well. The hotel features Terrace Suites that offer landscaped and furnished terraces large enough to host a private dinner party, plus a Presidential Suite (4,800 square feet) that has two-story windows, a large open living area, catering kitchen, bar, up to three bedrooms and an oversized terrace with private plunge pool.
The Urban Wellness Center is conceived along three streams of wellness: mind (spirituality), body (spa) and work (fitness). Encompassing two floors, the holistic haven has a lavish spa suite with its own bath and indoor garden, plus eight treatment rooms, spacious consultation area, relaxation lounges and retail shop. There's also a hair salon, barber and nail salon, along with fitness offerings through the gym or dedicated mind/body studio, which has regular open and private classes and a 98-foot lap pool.
5. Mango House Seychelles, Hilton
In early 2021, Hilton is expected to open its fourth tourism establishment in the island nation called Mango House Seychelles. The property will have 41 guest rooms that are targeted toward high-end clientele.
"Mango House Seychelles will allow guests to delight in a myriad of unique and exciting culinary concepts, including a variety of locally inspired menus. Guests can look forward to enjoying a boutique luxury resort experience at this outstanding LXR property," said Carlos Khneisser, VP for Hilton in the Middle East.
6. Aman New York
The highly anticipated Aman New York is scheduled to open in the spring. It's designed to be Aman's flagship wellness center for the western hemisphere and will provide guests with an ultra-wellness experience in the heart of New York City. The property will focus on holistic well-being with its 7,500-square-foot spa. This will be the brand's second "urban wellness" concept since it launched the Aman Tokyo in 2014.
The hotel will include 83 rooms and suites that will be at least 230 square feet, all with their own working fireplace. The property will also have 22 private residencies and a five-story penthouse. Guests and residents will have access to all Aman New York facilities, including three restaurants and a jazz club. Meanwhile, the spa will feature an exclusive membership program.
The three-story spa will have three rooms for consultations, examinations and therapy, as well as seven spa treatment suites, a 65-foot indoor swimming pool, a fitness center with Technogym equipment, a yoga studio and a hydrotherapy facility with saunas, steam rooms, ice fountains and sensory showers. The Banya and Hamman spa houses will have a private outdoor relaxation terrace with hot and cold plunge pools.
7. Resorts World, Las Vegas
Opening this spring, Resorts World in Las Vegas is a $4.3 billion resort comprised of three Hilton brands: Hilton Hotels & Resorts, LXR and Conrad. There will be 3,500 rooms in the hotel, as well as a 5,000-seat theater, 350,000 square feet of convention space, casino, fitness center and spa. The hotel will also a 222,000-square-foot pool complex, nine unique pool experiences and a 1,800-square-foot infinity pool.