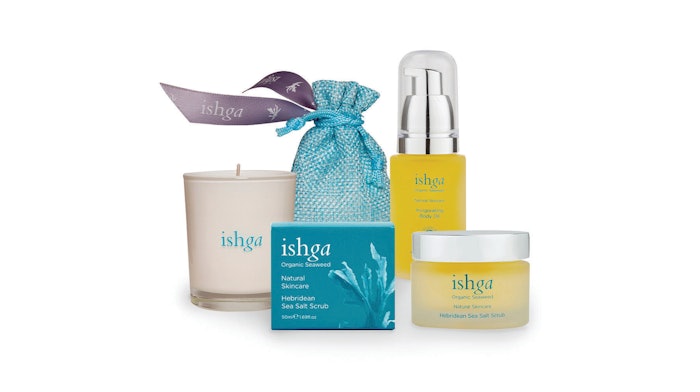 Ishga, an organic luxury seaweed skincare brand based in the Hebrides, Scotland, has appointed a distributor for North America covering the U.S. and Canada. Based in Florida, Ishga Organic Seaweed Skincare (North America) also has a team of distributors based on the West Coast of the U.S. to ensure national reach for its growing business.
The key focus for the brand is to develop strategic partnerships with premium spas and hotels interested in organic, sustainable and environmentally friendly products and treatments. In addition, the brand will have a direct-to-consumer online retail business and develop relationships with retail stores interested in luxury organic skin care.
With direct links to Ishga's home island, the Isle of Lewis in the Hebrides, Ishga Organic Skincare (North America) aims to communicate the story and benefits of this luxury seaweed brand. "I'm excited to introduce Ishga to the U.S. market and show people who are passionate about sustainable organic skin care a product which delivers physical positive results through the benefits of seaweed and ingredients," says Lindsay Santoro, West Coast distributor, Ishga Organic Skincare (North America). 
Adds Stewart Hill, operations, Ishga Organic Skincare (North America): "I am so passionate about Ishga; the backstory is real, and the owners and staff are committed to creating the highest quality products that align with the natural resources and community."
About Ishga: Sustainably sourced, formulated and manufactured in the Hebrides, Ishga is an award-winning skincare range that blends a mineral-rich potent seaweed extract with organic ingredients and essential oils, offering natural, results-driven products and professional spa treatments. The organic range is certified by the Soil Association and can be found in some of the UK's leading spas. "Ishga" is derived from the Gaelic word for water, and the line infuses healing spring water with Hebridean seaweed extract, which is renowned for its potent polyphenols. Respecting the natural environment, Ishga has an exclusive licence to harvest seaweed throughout the Western Isles and works in conjunction with Scottish Natural Heritage and Scottish Environment Protection Agency (SEPA) to ensure every harvest is sustainable and environmentally friendly.