Corinthia Hotel Prague's Beer Spa Package includes unlimited Beer Bernard during treatments.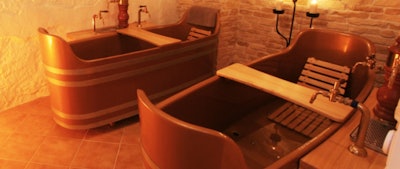 For those that enjoy a cold mug of beer as a favorite way to relax after a long hot day, Corinthia Hotel Prague's "Beer Spa Package" may be the ultimate summer spa getaway. Beer lovers will be in heaven with unlimited consumption of unpasteurized Beer Bernard during their treatment before moving on to a heated bed for further relaxation.
The Beer Spa Bernard embraces the health benefits of bathing in beer that have been claimed since the Middle Ages. Using only natural ingredients, the amber nectar is kept at a steady 37 degrees Celsius and continuously bubbling to 'promote dissolution of ingredients', releasing vitamins, carbohydrates and proteins.
Corinthia Hotel Prague's Beer Experience package includes:
One Beer Spa Experience per person at Beer Spa Bernard, comprising a traditional beer pearl bath (30 minutes), a heated bed relaxation session (20 minutes), with unlimited Beer Bernard®consumption throughout the experience.
2 pieces of Saela original Beer Cosmetics (beer shampoo, shower gel or soap)
Accommodation for two in Superior King or Twin Room at the five-star Corinthia Hotel Prague or the four-star Panorama Hotel Prague, with full buffet breakfast
Complimentary Czech beer welcome drink on arrival
Complimentary access to the hotel's spa and thermal floor
Free Wi-Fi at the hotel, VAT and taxes included
For more information visit panoramahotelprague.com