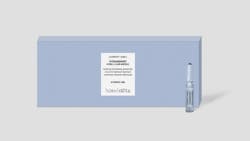 The Hydramemory and Sublime Skin Ampoules are designed to be a home-care solution as well as a an enhancement to spa facials.
The Hydramemory Hydra & Glow Ampoule is formulated with niacinamide, polyglumatic acid and N-acetyl Glucosamine to hydrate and illuminate the skin while making it look smoother and plumper. This ampoule is recommended for younger skin ages 25 to 40 years old, as well as for more mature skin in a very hot climate.
The Sublime Skin Lift & Firm Ampoule provides firming and antiaging benefits to the skin to reduce the appearance of wrinkles. This ampoule uses Acetyl Hexapeptide 1, epidermal growth factor and macro hyaluronic acid to tone and lift the skin . This ampoule is suggested for mature skin aged 40+ years, as well as for premature aging signs such as wrinkles and loss of tone.