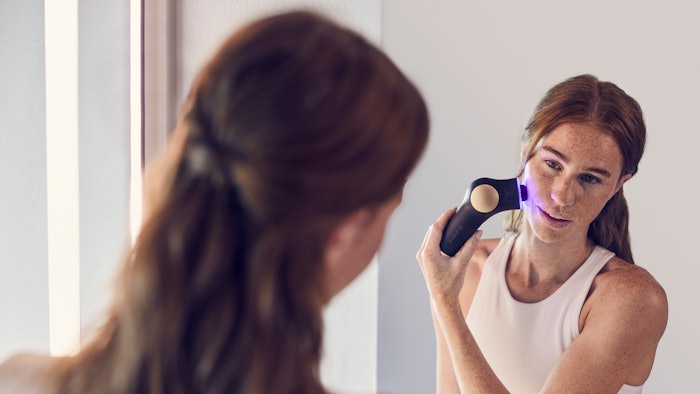 Courtesy of Therabody
Therabody's new TheraFace PRO is a portable facial health device. Using the technology behind Theragun, TheraFace PRO is able to reduce facial tension, relax facial muscles and care for the skin. It has interchangeable magnetic ring attachments that allow the user to seamlessly switch between or combine treatments.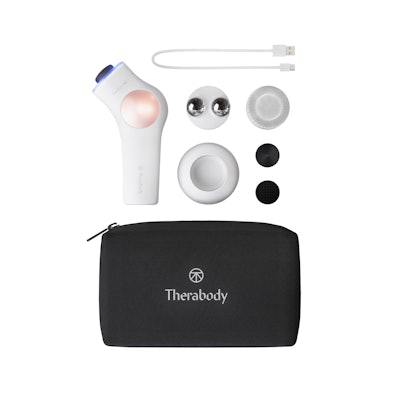 TheraFace PRO features six treatment modalities. 
Percussive facial therapy reduces tension and relaxes muscles. TheraFace PRO's amplitude is at 3mm muscle depth, which makes it perfect for facial muscle relaxation. It comes with three attachments: 
Flat: General use for the entire face, neck and chest

Cone: More precise treatment for targeted areas such as around the eyes, smile lines and pressure points

Micropoint: Maximizes circulation in larger areas such as the forehead, cheeks and chest
Microcurrent therapy tightens the skin and improves muscle tone and contour in the face and neck.
LED light therapy leverages various wavelengths to stimulate and rejuvenate the skin, with three treatment options in one attachment:
Red light reduces wrinkles around the eyes
Blue light addresses mild to moderate acne
Red and infrared light provides therapeutic warming to temporarily reduce pain and discomfort
Deep cleansing removes facial buildup of dirt, oil and debris. It combines a deep cleansing apparatus with percussive therapy for an advanced facial health experience. 
Hot and Cold Rings (sold separately) help skin absorb creams, reduce facial puffiness and improve radiance.