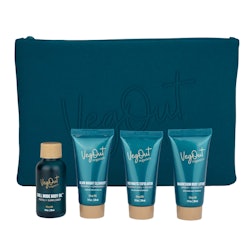 Veg Out Organics' Travel Size Gift Collection features the brand's top sellers for natural skin care. The collection includes the Magnesium Body Lotion, Enzymatic Exfoliator, Glow Bright Cleanse and Chill Mode Body Oil. Each product is thoughtfully formulated to provide results while harnessing the power of natural ingredients. 
Collection Details
Magnesium Body Lotion: Specially formulated with plant-based ingredients, the Magnesium Body Lotion provides a self-care experience, while calming inflammation and soothing tired muscles. Created with pure mineral magnesium, which helps to regulate cellular function and promote skin cell turnover, this body lotion has rich antioxidant hydrating properties of mango and shea butter that nourish skin for a healthy complexion.
Enzymatic Exfoliator: This gentle sea salt and coconut shell polish, combined with plant extracts and fruit enzymes, effectively exfoliates and rejuvenates skin.
Glow Bright Cleanse: This antioxidant-rich cleanser contains pineapple enzymes, lemongrass, vitamin C, and full spectrum plant-based extracts. Infused with powerful botanical ingredients, this antioxidant-rich creamy cleanser gently removes impurities and helps to restore the skin's natural radiance.
Chill Mode Body Oil: This oil contains a highly concentrated blend of oils and nutrients. Revitalize skin with hydrating ingredients and the entourage effect of aromatic terpenes, phytonutrients, and notes of lavender for full-body rejuvenation.