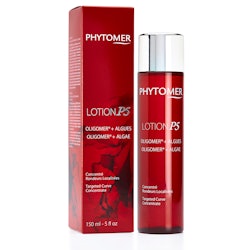 Phytomer's Lotion P5 introduces effective marine ingredients to visibly refine the silhouette. Its texture combines the effective properties of Oligomer, a seawater concentrate used in a very high concentration, with the slimming power of a cocktail of four extracts of algae. 
Key Ingredients
Oligomer: This signature seawater concentrate brings together all the active compounds of seawater to replenish cells with trace elements and minerals. Thanks to its unique composition, it stimulates cellular metabolism in all cells, including fat cells.
Polysiphonia Red Algae: Boosts fat burning process by countering the effects of cortisol which slows down the natural elimination of fat. Inhibits the production of proteins that act as protective shields of lipid droplets.
Laminaria Digitata Brown Algae: Limits the amount of fat entering the fat cells and actively helps burn it.
Palmaria Palmata Red Algae: Can activate the micro-circulation of the skin to improve drainage and eliminate fat
Chlorella Green Microalgae: Stimulates skin structure proteins for a firming effect.