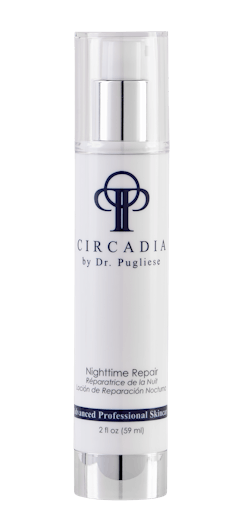 Circadia Nighttime Repair targets signs of aging by correcting damage and preventing further cellular harm. With the added power of vitamin A, peptides and ceramides, it helps support the look of healthy, youthful skin by assisting in cellular turnover, delivering key nutrients to the skin and improving the barrier function with skin-matching lipids. The serum combines anti-aging powerhouses like niacinamide with the company's signature compound complexes.
Key Ingredients
TECA: A natural extract from Centella asiatica that has been purified for use in skin care products. It contains three key compounds: Asiaticoside, Asiatic acid and Madecassic acid. The ingredient is known for its ability to improve the condition of the skin, particularly in areas such as repairing skin damage and promoting wound healing.
Niacinamide: A vitamin known for its numerous benefits, such as enhancing the skin's barrier function and reducing the appearance of fine lines and wrinkles.
SynchroLife: an advanced peptide-based active ingredient that provides a multitude of skin benefits, including circadian rhythm realignment, protection against digital pollution, fatigue reduction and neuro-beauty enhancements.
SK-INFLUX: A concentrated lipid that restores the natural protective function of your skin by mimicking the structure of the lipid barrier. It contains a mix of ceramides, cholesterol, fatty acids, and phytosphingosine.
TIMECODE: This innovative ingredient harnesses the power of the bliss molecule, also known as PalGly (Palmitic Acid/Glycine), to tackle the root causes of aging, such as chronic silent inflammation. It also helps improve micro-circulation, addressing issues caused by poor oxygenation and lack of nutrients.
Vitamin A (0.3%): A group of vitamins that protect the skin from damage caused by UV rays, repair DNA, and promote skin cell growth.
Palmitoyl tripeptide-38 (Matrxyl Synthe 6): A peptide that smooths wrinkles and improves skin texture by boosting the production of important components like collagen and hyaluronic acid.
Ergothionine (Thiotaine): An antioxidant that helps regenerate vitamin C, another important antioxidant for the skin.
BV-OSC (Tetrahexyldecyl Ascorbate): An oil-soluble form of vitamin C that reduces the production of melanin, helping to even out skin tone.
Vitamin E (Tocopherol acetate): An antioxidant that protects the skin from free radicals and helps maintain healthy cell membranes.