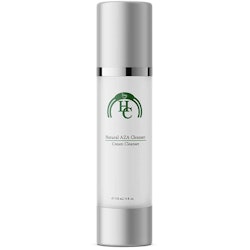 Hale Cosmeceuticals' Natural AZA Cleanser is a creamy cleanser that unclogs pores, reduces inflammation and improves hyperpig­mentation. Filled with natural ingredients, this nourishing cream is safe for sensitive skin and effective for all skin types. Azelaic acid helps keep skin feeling clean and refreshed. 
Key Ingredients
Vegetable glycerin is a natural humectant that infuses skin with essential hydration. The ingredient helps to improve moisture and create a protective barrier on the skin, while also reducing the effects of irritants known to cause redness and dryness.
Rose water and green tea extract helps to balance the skin's natural oils to reduce breakouts and improve complexion. Both green tea and rose water have anti-inflammatory and antioxidant properties which tame facial redness and irritation, and reduce the effects of free radicals.
Avocado oil has a naturally-high concentr­ations of vitamin E and infuses the skin with essential nutrients. It soothes dry, irritated skin, provides hydration, and enhances collagen production for rapid cell turnover.
800.951.7005, www.halecosmeceuticals.com