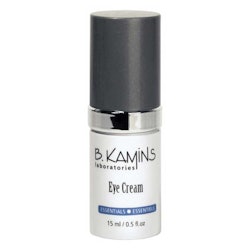 B. Kamins' Eye Cream is soothing and helps reduce the appearance of fine lines and wrinkles while moisturizing and firming the delicate skin around the eyes. The product helps to reduce the appearance of under-eye puffiness and dark circles. May be reapplied over makeup without smudging or distorting its application.
Key Ingredients 
Episphere-Blue is vitamin E in a polysaccharide capsule that moisturizes and provides skin with antioxidant and anti-aging protection.
Squalane is a fine emollient to keep the skin protected and moisturized.
Wheat germ oil is a natural carrier for vitamins and rich in vitamin E.
Sodium hyaluronate is a powerful humectant that binds water to skin.
Soybean oil is a natural emollient that is rich in vitamins and has water-binding properties.
888-252-6467, www.bkamins.com