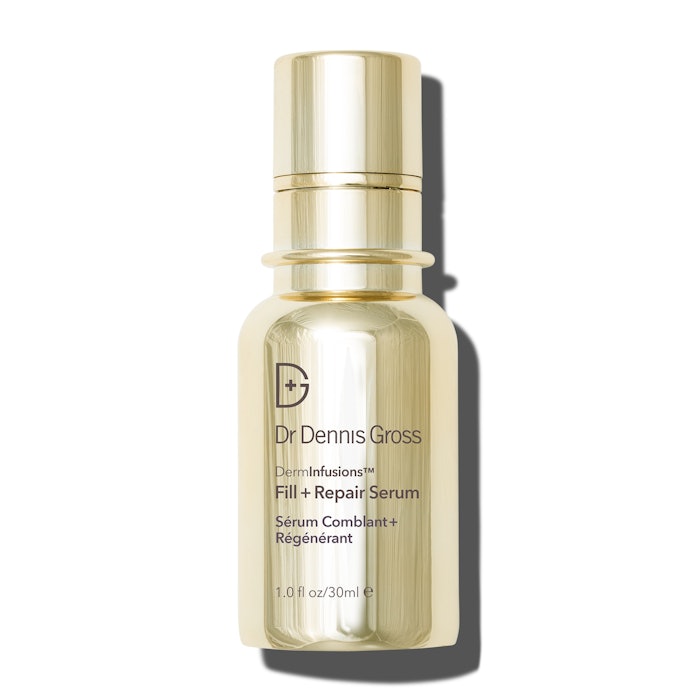 This fast-acting serum works three-dimensionally in skin to fill fine lines, firm and plump. Dr. Dennis Gross' MicroCelle Delivery system reduces the size of water molecules, carrying an infusion of hyaluronic acid, peptides, niacinamide, and ectoin deeper into skin for optimal absorption and performance. This needle-free alternative to injectables works overtime to hydrate skin and restore the moisture barrier while adding volume, controlling redness, and minimizing fine lines and wrinkles.
Key Ingredients
Four Molecular Weights of Hyaluronic Acid: Naturally occurring in the human body, these powerful humectants of varying molecular weights bind to water molecules, holding up to 1,000 times their weight in water and penetrate at various depths in skin, providing optimal hydration and skin plumping.
Volumizing Complex of Four Peptides: Acetyl Hexapeptide-8, Palmitoyl Tripeptide-1, Palmitoyl Tetrapeptide-7, Oligopeptide-2. The building blocks of essential proteins (like collagen and elastin) in skin. They help stimulate the production of these essential proteins, to keep your skin firmer, plumper and healthy-looking.
Ectoin: A powerful, yet soothing antioxidant that calms irritation and softens skin. The ingredient helps repair the moisture barrier by balancing its natural water levels for more hydrated, smoother-looking skin.