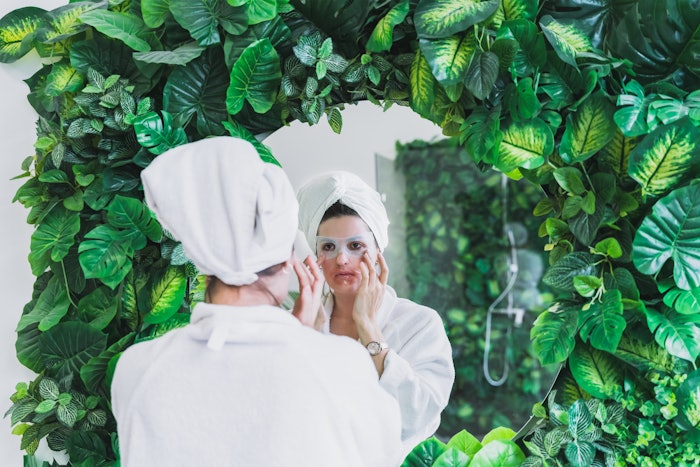 Natural brand sales outpaced the general market in the prestige space in 2022, according to NPD data presented at a recent CEW state-of-the-industry event, reversing recent trends that favored clinically positioned brands.
In addition, a recent Kline report notes that the "U.S. [clean beauty] market grew almost 10% in 2022 and is expected to continue its strong trajectory in the future."
NPD points out that this growth may be attributed to the fact that clean beauty products are reviewed 11% more highly than their conventional counterparts.
Yet, while the growth potential is immense, clean, natural and sustainable brands face challenges regarding transparency and claim integrity. Fortunately, there are solutions.
Beauty Sustainability Under the Microscope
According to NielsenIQ data, 6.4% of beauty and personal care products promote sustainability, with leading claims including recyclability, biodegradability, plastic-free and BPA-free. This relatively small portion of the market points to opportunities for growth.
This is borne out by consumer search data, which shows queries for refillable beauty up 27% and queries for bar formats up 10% year-over-year. 
Yet there is also rising skepticism about brand claims in the sustainability arena. 
Last year, activist beauty retailer Beauty Heroes claimed that 40% to 70% of sustainability claims could be exaggerated, misleading or false.
At the same time, the International Consumer Protection and Enforcement Network reported that 42% of reviewed cases included sustainability claims that were exaggerated, false or deceptive and could potentially qualify as unfair commercial practices under European Union laws.
A year earlier, Allure took aim at common sustainability claims, including recyclability, by no longer calling most plastic packaging "recyclable."
To capture and maintain consumer engagement in sustainable beauty, brands will need to be transparent on their claims and ensure that any communications can withstand the scrutiny of NGOs, regulators and, perhaps most importantly, social media influencers. 
Clean Beauty's Murky Challenge
What is clean beauty? Ask 10 people and you'll get 10 answers. And therein lies the challenge for beauty brands.
According to NPD data, 54% of clean beauty consumers research products themselves, while 39% rely on retailers to ID products/brands as clean. 
Unfortunately, the murkiness of clean beauty is increasingly a legal liability and a competitive challenge. The Kline analysis cited above points to a need for brands to be transparent and differentiate in order to compete and remain on shoppers' good side.
A recent class action complaint in the U.S. Northern District of New York Court against Sephora USA alleged that the "Clean at Sephora" program was misleading to consumers and took advantage of the vague regulations enforced in the cosmetics industry. 
The suit argued that, with this label, consumers assumed the products were formulated without parabens, sulfates SLS and SLES, phthalates, mineral oils, formaldehyde and others, according to the court document.
An example in violation of the presumed definitions of clean beauty was offered in the court documentation: "The Saie Mascara 101 contains numerous synthetic ingredients, several of which have been reported to cause possible harms."
The complainant is seeking "monetary, statutory and/or punitive damages and interest; awarding costs and expenses, including reasonable fees for Plaintiff's attorneys and experts; and other and further relief as the court deems just and proper." (The full court document is available online.)
Whether or not this particular suit succeeds is somewhat beside the point. The key takeaway is that the chasm between industry and consumer ideas surrounding "clean beauty" is significant.
Of course, not all brands agree on what constitutes "clean," nor do retailers, which craft their own definitions (if they define such terms at all).
The key will be transparency, as Mintel noted back in 2020: "Brands that demonstrate their dependability, transparency and willingness to take action to ensure product safety will be rewarded by consumers."
The fuzzy concept of clean beauty also creates a challenge for brands to stand out from the pack, particularly as more and more players claim the "clean beauty" term.
To distinguish themselves, top performers in the sector have focused on efficacy and functional claims, from skin care to body care to makeup.
Brands also found success when they took to Instagram and TikTok to provide ingredient and product education, thereby demystifying individual clean claims.
Kline concludes, "The increased push toward cleaner and healthier products, coupled with consumers' demand for newness, efficacy, and innovation, will continue to drive growth in the market. However, as competition is becoming more intense, it is important for brands to understand how to best stand out against each other."