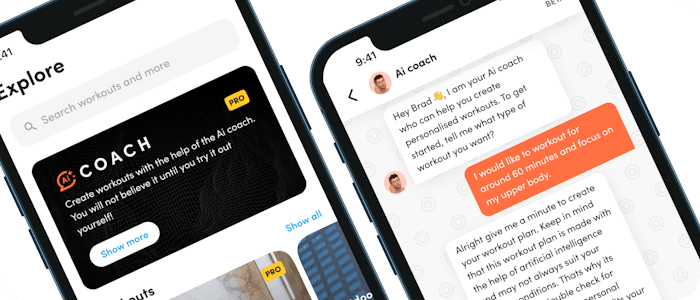 Photo Courtesy of Virtuagym
Virtuagym has introduced the Virtuagym AI Coach, a new feature driven by AI that instantly creates tailored workouts for users based on their specific requirements, inputted via a chat interface. The fitness experience delivers fully automated training support and education for users of all capabilities, experiences and resources. It can be integrated within the Virtuagym Fitness mobile app to seamlessly link users to personalized workouts powered by Virtuagym's database of more than 6,000 exercises.
Related: 5 Fitness Programs Your Guests Will Love
The AI Coach allows users to specify their requests in a chat conversation, including their preferences such as fitness goals, exercise level, preferred equipment, muscle groups, age or duration of exercise. The AI Coach subsequently provides the user with a personal workout fitting those needs, complete with exercise instructions, sets, repetitions and 3D-animated exercise videos. After receiving the workout, the user can save it to their personal in-app workout library or schedule it into their activity calendar.
The Virtuagym AI Coach is connected with other Virtuagym features like activity and heart rate tracking using wearables, body composition monitoring, nutrition coaching and gamification with challenges. The new solution is initially available globally to all Virtuagym Pro users in the Virtuagym fitness app and can also be trialed for free for a 7-day period. Future plans include expanding the capabilities of the AI coach and extending the feature to trainers, health clubs and corporate businesses already using Virtuagym software.
"The Virtuagym AI Coach is a prime example of how technology can make fitness and health more accessible and personalized than ever before, empowering people of all fitness levels to receive tailored workout plans through artificial intelligence," said Hugo Braam, CEO and co-founder of Virtuagym. "We believe this new solution is a real game-changer for individual exercise, but in the near future also for our business clients who are interested in making personalized coaching more efficient either through self-management or by empowering trainers to use AI."
"Leveraging the power of AI is a natural next step in enhancing the way we provide affordable personalized coaching in the fitness industry," said Alex von Hagen, Virtuagym's head of enterprise. "Our product team has worked hard to create an easy-to-use solution that can act as an individual's personal fitness companion to help them on their way to a healthier lifestyle. We're really excited about this development and I can't wait to be able to offer this to our business clients in the fitness industry!"