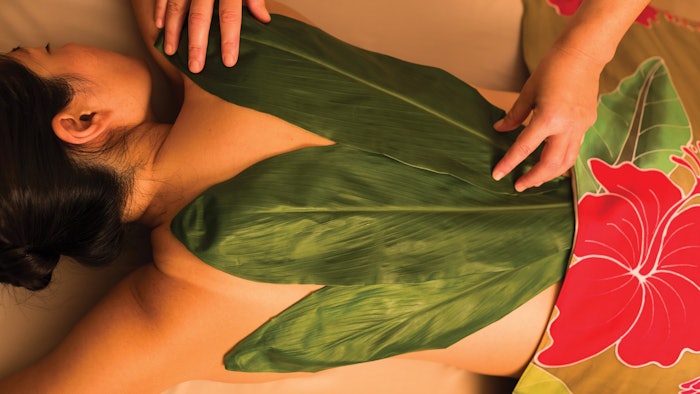 Photo courtesy of Four Seasons Resort Lanai.
Hawanawana Spa
at the Four Seasons Resort Lanai has debuted a collection of Ayurvedic treatments that help restore dosha imbalances, rejuvenate the mind and body through massage, and replenish skin with oils and aromatherapy blends. 
The treatments feature the
Shankara
product line, which combines Ayurvedic wisdom of the East with modern processes of the West to promote wellness and sustainable skin care.
1. Island Serenity Ritual
The Island Serenity Ritual begins with an intuitive selection of oil from dosha-specific options. The oil selected by the guest indicates the dosha that is imbalanced, and the selection aids in bringing harmony back to the system. The ritual continues with a relaxing abhyanga massage followed by a dosha-balancing foot bowl massage that re-mineralizes the body. Next, a soothing kansa facial wand massage brightens skin and releases stress from the facial muscles, neck and shoulders. Finally, the guest receives the flowing oil of shirodhara, which is deeply relaxing to the nervous system and melts away tension to rejuvenate body and mind.
2. Abhyanga Massage
The Abhyanga Massage consists of a continuous flow of medicated oil, massaged in a rhythmic motion, that brings balance and harmony to all three doshas. The treatment revitalizes and refreshes the mind, the body and the spirit while simultaneously providing lymphatic drainage and releasing tension from the joints.
3. Island Serenity Facial
The skin-refining Island Serenity Facial is designed to deeply rejuvenate and nourish aging skin, featuring a double cleanse and exfoliation technique, a special mask blend, re-mineralizing foot bowl massage, and the use of an Ayurvedic kansa wand to soothe, tone and release stress from facial muscles, neck and shoulders.