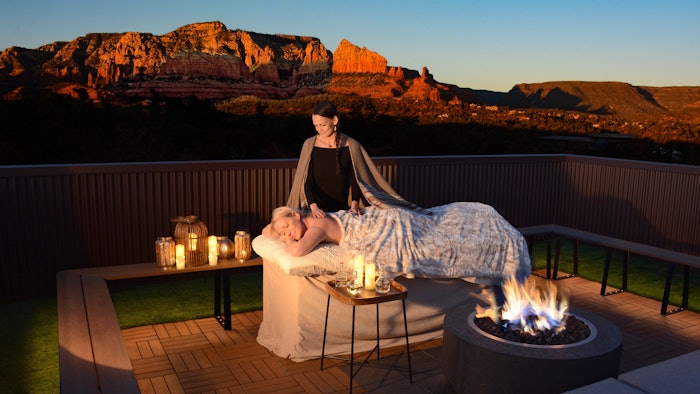 Courtesy of Ambiente, A Landscape Hotel
Ahead of its 2022 opening, Ambiente, A Landscape Hotel in Sedona, Arizona, unveiled plans for the ultra-therapeutic, Sedona-inspired Velvet Spa. 
The intimate, three-room Velvet Spa will offer a range of restorative treatments that integrate locally sourced, healing ingredients. Cutting-edge wellness offerings were curated by Jennifer May, co-owner of Two Sister Bosses, the family-owned developer of Ambiente. 
Signature Treatments
Atrium Rooftop Massage Under the Stars: Single or couples' massages will be held on the open-air rooftop of a guest's private room. They can enjoy a fireside treatment designed to balance the nervous system, uplift the emotions and leave skin super soft. The treatment begins with an exfoliating polish followed by an aromatic journey that culminates a deep state of relaxation. 
Vibro-Acoustics Sound Lounge: Spa guests have access to a private lounge with specially designed beds equipped with InHarmony Interactive Vibroacoustic Sound Lounge Technology, plus a Cocoon Headset with built-in light therapy. Together, these modalities can provide guests with a transformative, full-body physiologic and auditory experience. This technology penetrates the body's cells and acts as an internal massage that helps guests reach a meditative state. 
Nano-Oxygenated Hydrotherapy Soaking Room: In a private bathing area, Japanese-style soaking tubs featuring nano-oxygenated water will be available for use after spa treatments. The oxygen infusion enhances the already extensive hydrotherapy benefits, from increased metabolism and energy levels to better sleep quality. The treatment also provides softer skin, increased blood oxygen and decreased inflammation. 
Outdoor Infrared Sauna: Overlooking the property's ancient waterways, the sauna provides privacy and a deeply curative infrared treatment. 
Barefoot Botanist: Spa guests can incorporate one of the three scents from the Barefoot Botanist collection into one of their signature, customizable treatments. The collection's scents include calendula, orange myrtle, lavender blue chamomile and vanilla chai spice. 
Velvet Spa's private treatment rooms each feature a variation of contemporary décor with nature-inspired enhancements, curated to reflect Arizona's essence. Velvet Spa's overarching composition is meant to evoke a sense of grounding for guests, allowing them to reconnect with nature.