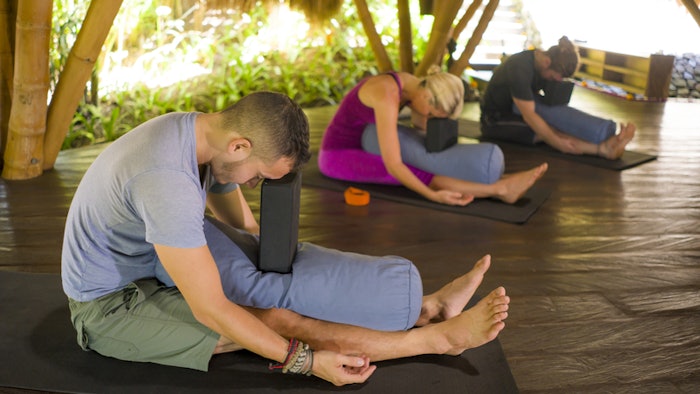 Wellness retreats are growing in popularity, so we're sharing out how these three destinations have curated programs based on the wants and needs of attendees.
1. Spring Into Wellness Retreat
The annual Spring Into Wellness weekend at Omni Bedford Springs Resort is a three-day retreat filled with immersive experiences, renowned brands and wellness experts. Spring Into Wellness activities include gentle yoga, mindfulness hikes, meditation and flavor therapy, and guests also enjoy fitness, sensory and other spiritual practices. 
Related: 6 Touchless Wellness Services from Carillon Miami
The resort hosts special vendors to support guests' inner and outer well-being; this year, brands included Mahendi artisan-blended fragrances made with meaning; Pure Inventions, natural antioxidant-infused flavors crafted in hydrating mocktails; clean skin and beauty brand Jane Iredale; Makes Scents signature scents; and more.
2. Awaken to Radical Self Love Retreat
The Awaken to Radical Self Love Retreat by Sisters of Yoga allows attendees to immerse themselves in the healing power of nature. It takes place in a treehouse community in the Dominican Republic, and invites women to come together to elevate and expand into the limitless freedom that comes with self-love and acceptance.
Retreat leaders include certified yoga instructor Marsha Shackelford and international yoga instructor Tie Simpson, who is also the founder of Sisters of Yoga.
Guests will prioritize healing, explore their inner world and experience a deeper level of expansion in a safe and supported space. The itinerary includes:
Daily yoga and meditation
Guided journaling
Intention setting
Healthy and delicious meals
Supported Sister Circles
Sound therapy
Nature hike 
Horseback ride
Cacao ceremony and sacred healing circle
60-minute massage
Bonfire releasing ceremony
3. The Renewal Retreat
Tivoli Carvoeiro's new five-night wellness retreat, The Renewal, focuses on self-care, sustainability and togetherness. Attendees participate in yoga, walking, meditation, personalized wellness consultations and numerous other wellness activities, leaving them completely rejuvenated. Natura Bisse and Energybits products and treatments are also part of the wellness retreat.