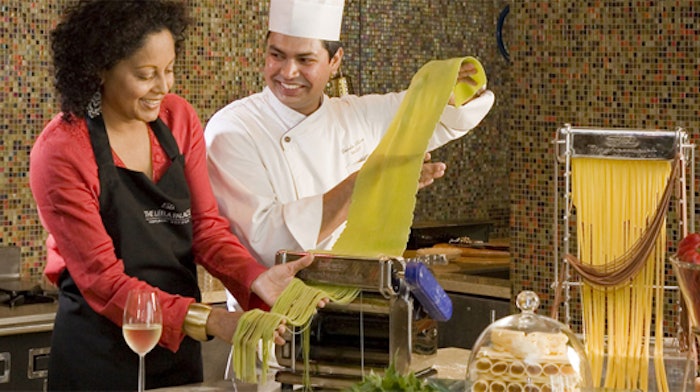 Courtesy The Leela Palaces, Hotels and Resorts
The Leela Palaces, Hotels and Resorts has launched its signature wellness program: Aujasya by The Leela, aimed at helping guests embrace a healthier lifestyle. Aujasya by The Leela is built around two wellness pillars: Restore (Food) and Renew (Mindfulness). 
Related: Mindfulness Therapy Reduces Chronic Pain
The term Aujasya comes from Sanskrit and is translated as "beneficial to strengthening vitality or energy."
For the first pillar, Restore (Food), the resort is collaborating with nutritionist and food consultant Dr. Ankita Jalori. The culinary teams have curated menus to achieve a balance between health and flavor by focusing on millets, lean proteins, low-fat dairy and whole grains.
Aujasya by The Leela's food menu includes dishes like Pearl Millet Pessaratu made with fiber and iron-rich bajra; calcium- and protein-rich Sattu Paratha; risotto combining immunity-boosting spinach and Himalayan millets; and many more interesting dishes.
Aujasya by The Leela will continue to develop and evolve to address all aspects of service, wellness experiences, mindfulness and more. 
"Today, people have become more aware and conscious of their well-being. Balancing nutrition with taste can be quite a challenge. My science and knowledge and the skill, and creativity of the Chefs at The Leela have come together to create this unique brand program for The Leela, and I am thrilled to be a part of this wholesome project and look forward to its growth and expansion," said Dr. Jalori.