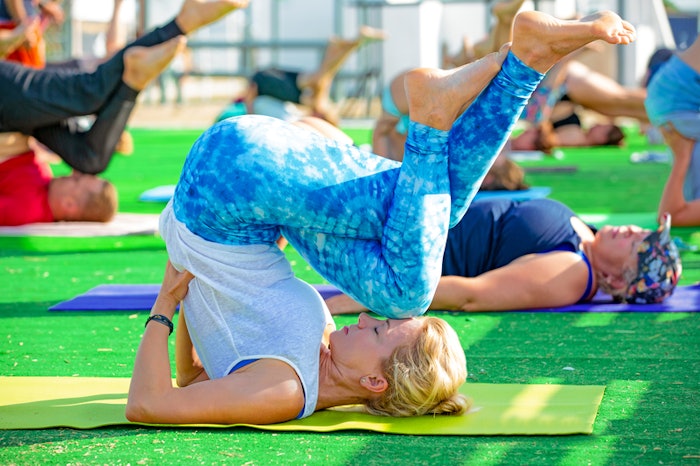 AKA has launched a well-being initiative of immersive and curated experiences in recognition of National Mental Health Awareness Month, called staycalm with AKA. The programming addresses anxiety and daily stressors by providing tools to regain balance and harmony. Staycalm with AKA kicks off May 2022 with these seven programs across multiple properties.
1. Sleep for All
All AKA Properties in the U.S. will give residents complimentary access to Sleepspace, an app designed to help users achieve the best night's sleep. The app is free to AKA residents for 30 days. The science of sound, light and vibration, along with actionable interventions, are used to improve guests' mental well-being.
2. Meditation Training
AKA Central Park, AKA Sutton Place and AKA Times Square, New York, allow guests to check out or borrow a Core by Hyperice, which is designed to help people find calm, improve focus and inner strength. It is both an app and a handheld meditation device that tracks heart rate and stress levels. The Core Meditation Trainer uses biometrics to encourage breath control and focus for those navigating meditation techniques.
3. Mindful Movement
AKA University City, Philadelphia, is partnering with The Lab to offer private, calming and meditative sunset and sunrise yoga sessions. Participants will learn exercises, controlled breathing and relaxation techniques that will help them manage anxiety and reduce stress. The yoga classes bring together physical and mental disciplines that lower blood pressure and heart rates. The property will also welcome the return of Aqua Vida for floating aqua yoga on the 28th-floor pool.
4. Personalized Wellness
AKA Rittenhouse Square, Philadelphia, has private wellness and meditation-themed experiences for residents to enjoy in suite. Offerings include sound meditation and relaxing sonic experiences, yoga and Pilates classes, barre and TRX sessions, and custom facials with CBD and aromatherapy options.
5. Cryotherapy
AKA Beverly Hills and AKA West Hollywood are offering 15% off tech remedies at Remedy Place, a social wellness club. Guests can enjoy the world's first commercialized Ice Bath Studio, which begins with 10 minutes of guided breathwork followed by up to 6 minutes submerged in 38-degree water; and cryotherapy, which boosts endorphins with 3.5 minutes in a -150º F whole-body cryochamber.
6. Holistic Treatments
Hotel AKA Brickell, Miami, provides holistic treatments at Leaf Spa, aimed at grounding guests and helping them shed the old, embrace change and blossom anew. The standout Serenity Slumber Body Treatment incorporates a lavender-infused body scrub, followed by the realignment of the chakras. The Peaceful Pause Massage starts with a manifesting meditation to calm the nerves and support peace and renewal.
7. Well-Being Bundle
AKA Beverly Hills and AKA West Hollywood also launched the Remedy Place Staycation Pass. This special includes four Tech-Remedy reservations, a guided breathwork ice bath class, unlimited cryotherapy (for one month upon activation), a signature Remedy Shot vitamin injection, a 24k-gold acupressure ear seed appointment with one of Remedy Place's resident acupuncturists and a donation to Project Healthy Minds.
"Health and wellness is a pillar of the AKA ethos," said Larry Korman, president of AKA. "As our guests' travel priorities evolve, we hope that in some small way—even for an hour—we can help alleviate and mitigate people's disquietude through the programs and our like-minded partners of staycalm."