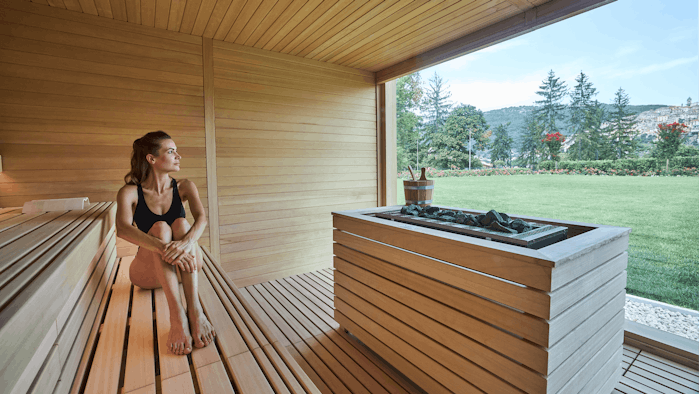 Courtesy of The Ranch/Palazzo Fiuggi
Wellness destinations around the world are creating unique health programs for discerning clientele. Here are four new wellness programs for your own menu inspiration. 
1. Sauna Over the Sea
Seabourn, a luxury cruise line, is now offering Sauna Over the Sea. The sauna is located on the Seabourn Venture and Seabourn Pursuit, and the therapy is a natural fit as the sea has long been touted for healing properties like better sleep from breathing in sea air, reduced cortisol levels from watching the waves and more. With this in mind, the Sauna was designed with full views of the surroundings to enhance feelings of serenity and relaxation.
Related: The Top 6 Spas on Cruise Ships
2. Sēfari " Bathe in Nature" Immersion
MacArthur Place Hotel & Spa's new Sēfari 'Bathe in Nature' Immersion is a multi-sensory guided bath experience based on elements of nature. Stereophonic sound (like tropical rainstorms, crashing surf and ambient music) is specially harmonized with water healer Jobi Manson's voice to create a truly relaxing ritual. The experience is set up in-room by a Bath Concierge and includes plant-based bath and body products. It relieves stress, improves circulation, stimulates digestion, improves sleep and hydrates the skin. A tea service completes the ritual, curated by local UppercaseTea to soothe the body, mind and soul. 
3. World Traveler Experience
Salt Spa at The Reeds at Shelter Haven celebrated World Health Day with luxurious packages inspired by treatments around the world. The World Traveler Massage Experience features a number of modalities, including:
Traditional Swedish massage, a gentle modality focused on the body's superficial layers, that promotes relaxation and circulation.
Japanese reflexology on the hands and feet to relieve muscle tension and support well-being.
Indian head massage therapy, known as Champi, is performed to increase the flow of energy or chakras in the body, relieve headaches and stress, and promote overall health and wellness.
Related: Bringing Traditional Chinese Medicine Into Facial Treatments
4. Wellness Medical Retreat
The Ranch launched its first permanent international program at the award-winning Palazzo Fiuggi Wellness Medical Retreat. Beginning May 15, 2022, The Ranch Malibu's program will be part of Palazzo Fiuggi's services for a transformational wellness experience.
A small group of 25 guests per week will enjoy eight days of health programming that includes a four-hour morning hike, naps, afternoon strength and core training classes (taking place at a separate gym and not Palazzo Fluggi's), yoga and daily massages. Activities are complemented by a nutritious plant-based diet, as well as optional diagnostic and blood testing, and physician consultation.
Guests will also have access to the 4,300-square-foot fitness center, the property's panoramic indoor and outdoor pools, and Fiuggi's spa with a fountain connected directly to the Fiuggi waters. The spa offer hydrotherapy and healing thalasso, additional medical services and the Roman Thermae.
The health programming leaves guests feeling more self-confident, rested and rejuvenated, while having lost inches and gained muscle and mental clarity.