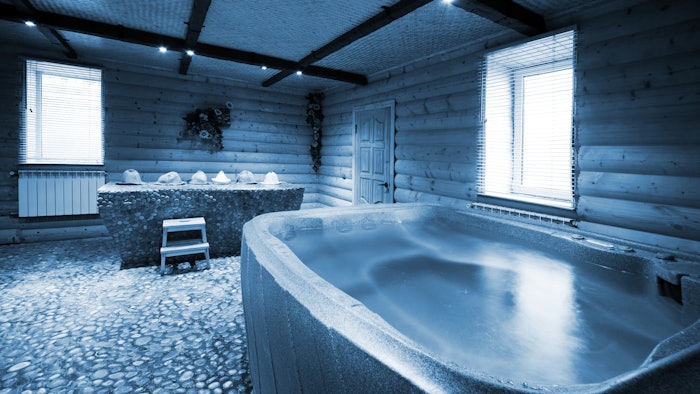 The definition of spa is, "a mineral spring considered to have health-giving properties," so it is safe to say that spa and wellness often encompasses water in some way, shape or form. The Global Wellness Summit (GWS) announced in its top wellness trends for 2022 that urban bathhouses were going to be coming back bigger and better than ever. 
Hydrotherapy History
Bathhouses are not necessarily new territory in wellness, with early public bathhouses being fueled by mineral-rich waters warmed from the earth's core. This water helped to heal or improve skin conditions while also relieving pain and encouraging rest and relaxation. You can date the history of bathhouses as far back as 7th century B.C. in Chinese history books; there are mentions of a spring that helped to treat diseases with the sulfur contents in them. In Europe, buildings were often constructed around or on top of natural hot springs, such as the historical Bath Spa in England.
Related: 8 Tips for an Elevated Onsen Bathing Experience
Historic bathing culture is being updated today with the growth of urban bathhouses. The Global Wellness Summit (GWS) even reported that, prior to the pandemic, the Wellness Tourism and Thermal/Mineral Spring wellness sectors, both tied closely with urban bathhouses, experienced significant growth from 2017 to 2019 (8% and 6.8%, respectively). 
While this did slow during the pandemic, it is predicted that both of these sectors will become future wellness economy winners as pent-up demand fuels annual growth rates of 21% for Wellness Tourism and 18% for Thermal/Mineral Springs through 2025. 
 "A revival and appreciation of historical communal bathing and swimming sites in locations around the world is taking place as people turn to authentic, traditional, and proven wellness practices," said Don Genders, chair of the Global Wellness Institute's Hydrothermal Initiative. 
Related: Why Your Clients Want Thermal Bathing Experiences
The Urban Bathhouse Trend
New and renovated bathhouses have started to make their way into cities, providing a new kind of social wellness club. These bathhouses not only help to bring people together to relax, but it also provides a gentle reboot of the mind, body and soul through the discovery and sensory delight of traditional bathing rituals. 
Covid-19 may be one of the leading causes of this trend, as it was the restrictive, isolated city living that stoked the need for accessible and purposeful wellness sanctuaries. Some examples of these spaces include BathHouse, which originated in Brooklyn and expanded to Manhattan in 2021. There is also support in saving historical bathhouses as well like the Carlisle Turkish Baths in the UK. 
Overall, everyone is feeling the need to congregate and socialize more than ever after the pandemic, and that is why urban bathhouses are becoming a crowning glory in the wellness world. These spaces can help be part of the solution to combatting loneliness and isolation.